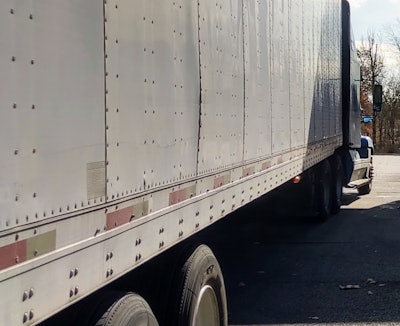 The first meeting of the Women of Trucking Advisory Board (WOTAB) on Wednesday, Nov. 9, made headlines as the initial convening of an advisory board sure to have policy influence. It also brought news of a Federal Motor Carrier Safety Administration report called "Crime Prevention for Truckers," geared to better understanding the nature and prevalence of harassment and assaults against truckers, specifically women and minorities.
As may well be expected, this first, daylong WOTAB meeting featured a lot of detailed discussion about women in various trucking workplaces, but ultimately it led to raising the profile of plenty key issues that impact all drivers.
WOTAB, comprised of 16 diverse founding members, was created to focus on recruiting, retaining, supporting and ensuring the safety of women commercial motor vehicle drivers and strengthening the trucking industry as a whole. The board's mandate, as spelled out in last year's highway bill and promoted as part of President Joe Biden's Trucking Action Plan, seeks to open up the trucking trade to more women, as they currently make up just 7% of operators.
Yet much of the policy discussed at the first meeting went way beyond a gender binary and into ideas that would fundamentally impact trucking generally. That is to say, the ideas discussed on that day don't just matter to the women of trucking, but the men, too.
Joyce Brenny, a Minnesota-based small fleet owner who sat across from Department of Transportation Secretary Pete Buttigieg and FMCSA Administrator Robin Hutcheson, said just the bare fact of holding the meeting kind of blew her mind.
"It felt surreal," she said. "Like a real, honest 'yeah we're finally listening' kind of moment. I'm almost at a loss for words."
Brenny, who started driving herself in 1980, said the subject of crime and harassment at times devolved into finger-pointing and fighting that she tried to steer back toward constructive conversation. Fellow board member Soledad Munoz Smith, operations VP for 175-truck, Texas-headquartered Munoz Trucking, agreed there was a "back and forth" between some members, though she tried to keep the focus on solutions to problems herself.
"We all came from an array of backgrounds and some of the stories, including my own, were kind of bumpy," said Brenny. "I wanted us to continue to focus on, 'Yes we had those bad experiences but this brought us to the Advisory Board, and now we can help others possibly avoid such situations or find the resources to be empowered.'"
Brenny, no stranger to the mistreatment women can receive, quickly looks past the gender divide.
"Trucking is all I've ever done," she said. "I grew up with brothers on a farm and kind of naive to the fact that girls or women weren't viewed equally in the trucking industry. When I started, it was a time in this country where there were no jobs to be found, so I ended up in the trucking industry because I needed a job and I knew how to drive."
But it wasn't so easy for women back then. "Back in those days there weren't even showers for women in the truck stops," she said.
Obviously, things have changed. Brenny's own roughly 70-truck fleet now sees an annual retention rate of 90% when it comes to operators, something she credits to "putting people first," and an open-door policy in the office. Brenny knocked other carriers as "locking drivers out" of management facilities when those same drivers generate all the revenue.
"If a truck driver gives me their time" she's happy to take it, she said. "They're the ones gone all week, they're the ones giving the time."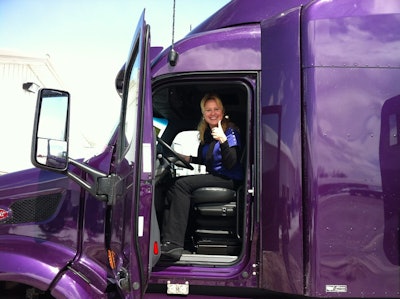 Brenny's motivation: she's forward-looking, solutions-oriented, and wants to help make life easier for drivers and trucking companies.
Munoz Smith spent her own childhood surrounded by trucking, taking cross-country trips with her dad when she was young and eventually coming into a leadership role in his fleet. But Munoz is not a driver, and never experienced some of the difficulties other panelists discussed. As such, the panel "opened her eyes" to some of the harsh realities of the job, especially around training and truck parking.
Brenny said WOTAB discussed at length a "safety protection plan," which would include "a few extra steps for women" aimed at warding off physical attacks, parking intelligently and safely, and securing the cab at night. "They really, really, really had a focus on training. I'm sorry but it's pretty obvious to me that you don't put a male and female in a truck where they have to stay overnight in training. I can't believe people are doing that."
Munoz Trucking doesn't have a training program, and all their male-female teams consist of couples. For her, looking around at other quarters of trucking, "one big takeaway is that when there's training, there should be no sharing of the sleeper cab," she said. "They need to find a hotel for the female or male driver."
After all the horror stories in trucking about exactly such arrangements, Brenny said it's time to stop finding excuses for this behavior and time to find solutions, like pairing up same-sex driver-trainer pairs or sending opposite-sex pairs only on short-haul runs for the first six or so months. Brenny also mentioned driver background checks, which one company recently robbed by an employee came around to the hard way.
Prudence and due diligence in such matters, though, mightn't benefit only women. Does any driver you know want to pair up with an unvetted trainer for an overnight stay? And of course harassment and assault can occur to anyone, and/or along racial or national lines rather than gendered ones.
[Related: Bull hauler Mary Hooks was told 'I coudn't do it, and I was going to prove 'em wrong']
Perennial parking safety, harassment problems
Truck parking took up a good chunk of the meeting. Joyce Brenny outlined her approach.
"What we do is at the destination where we pick up or deliver, I ask and find out if the truck can park there, and we go as far as charging the company more money [about $100] if they say no," she said. "I have said I think it should be a law that however many trucks [a company is] loading in the morning, you have to have enough spots for them."
Brenny's thinking is somewhat in line with an idea floated by one participant in a talk on Capitol Hill for a kind of "shipper score card," where the trucking industry gets organized and ranks customers on how well they treat operators. Truck parking isn't just an issue for women, again -- when trucks relegated to roadside or ramp parking get smashed into by drowsy drivers, gender doesn't enter into it.
Munoz Smith said her fleet doesn't have the "luxury" of grading shippers or turning back loads, but truck parking remained a big priority for her. Other priorities she hoped WOTAB could turn its attention to: the swarm of billboard lawyers and legal challenges facing truckers of all stripes, she said, to "make a difference for women and all drivers on the road, bringing their voices on the table."
Brenny spoke in favor of an industry-wide reporting procedure for harassment, to make sure there's "no tolerance for people who have harassed or abused anyone." At once, she acknowledged the difficulty of standing up any system based on accusations. "I think that'd be an OK thing if everyone was honest, but it's kind of scary. You get disgruntled people who just want to cause issues and defame someone or a company, and you can't take that back."
For many to whom incidents have occurred, too, she feared "it's just not something you'd wanna talk about, and if it happened you'd just want it to go away," she said.
But that's Brenny's dedication to fairness and good outcomes in the only industry she's ever known, and it reflects her family life as well. "I grew up with brothers and I have two grandsons, little guys. My world is really boys," primarily, she said. "I want the world safe for my grandsons, too. It's not just about making the world safe for women, but making it safe for everyone."
Brenny's optimistic about WOTAB and trucking's future, but urged fleets to "slow down and properly train" drivers rather than taking the "quick and easy meat-in-the-seat approach."
As a member of countless trucking organizations in addition to the board, too, she hopes other members can "take your hat off and put on a hat that is there to serve the trucking industry," she said. The first meeting "went way down a path of individual groups, and I think that's selfish, and I will be voicing my opinion that we're there to bring a solution to the problems in trucking, and to leave our little one-sided groups out of it."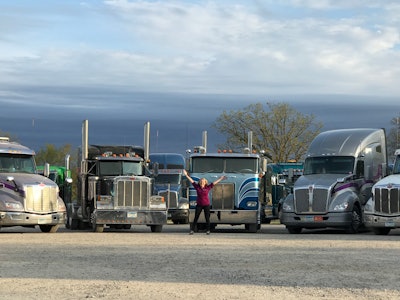 [Related: Equal partners: Brenny's Chris Litzinger and Henry Kuperus, profiled in 2013]