Trucking news and briefs for Friday, Nov. 18, 2022:
Former Border Patrol agent charged for hiring undocumented individuals as drivers for trucking company
A former Border Patrol agent, his wife and a Laredo man have been charged for their roles in a conspiracy to hire undocumented immigrants to drive for their trucking company by fraudulently obtaining immigration permits, according to the U.S. Attorney's Office for the Southern District of Texas.
Authorities on Nov. 17 arrested Ricardo Gonzalez, 39; his wife, Natalia Gonzalez, 35; and Alex Lopez, 33.
According to the charges, the three individuals were responsible for the day-to-day operations of Gonmor Inc., a trucking company based in Laredo.
Beginning in February 2017, the indictment alleges the group recruited and hired undocumented individuals to work as commercial truck drivers and paid them less due to their citizenship status. They were allegedly aware that the people they hired were not legally allowed to work in the United States.
The conspirators are alleged to have prepared paperwork so the individuals could obtain a Form I-94 permit, which allows a visitor to travel farther than 25 miles from the border and remain in the United States for more than 30 days. Applicants must present another permit/visa, such as a border crossing card, in order to obtain such a permit and are not eligible to work in the United States by law, according to the charges.
The paperwork allegedly included a letter from a fictitious Mexican trucking company and stated the undocumented individual was employed by the company as a truck driver. According to the indictment, the letter further requested that the person receive an I-94 permit so that he could travel into the United States.
The group allegedly instructed individuals to present the letter to authorities at a port of entry in Laredo to apply for the permit. When the individual received the permit, the co-conspirators allegedly assigned jobs to the new employee to transport legitimate cargo throughout the United States.
Gonzalez is a former Border Patrol agent and prosecutors say he utilized his knowledge, training and experience to facilitate the employment of undocumented individuals and to obtain the permits.
If convicted, each defendant faces up to five years for the conspiracy to fraudulently obtain immigration permits and up to 10 years each for the conspiracy to encourage or induce an alien to remain in the United States and conspiracy to harbor/shield an alien from detection.
[Related: Inside an uptick in human smuggling via tractor-trailer: And how to help combat the problem]
Tips for avoiding cargo theft over Thanksgiving holiday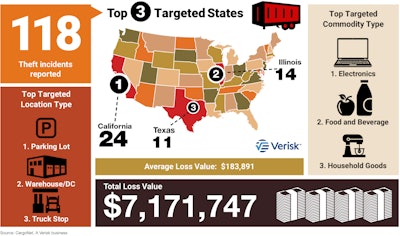 Cargo theft recording firm CargoNet is reminding the trucking industry and others involved in the supply chain that holiday breaks create opportunities for cargo thieves to target unattended vehicles, shipments and warehouses. The firm said it is tracking organized cargo theft groups operating in almost every region of the country that are carrying out sophisticated targeting operations to steal specific kinds of goods.
CargoNet's Command Center analyzed historical crime data from the Tuesday before Thanksgiving to the Monday after Thanksgiving for the past five years to help industry professionals mitigate theft risk.
The firm recorded 118 theft events in this analysis period, with an average stolen shipment value of $183,891. Theft reports were most frequent the Friday after Thanksgiving.
Theft events were most common when the victim parked their property in large parking lots, like that of a big box retailer, and were most frequent in San Bernardino County, California; Cook County, Illinois; Los Angeles County, California; and Fulton County, Georgia. Cargo thieves targeted a wide variety of goods in previous years, but thefts of shipments of televisions, major appliances, vehicle tires and alcoholic beverages were prevalent.
There are several regional trends that CargoNet's analysts are most concerned about this upcoming holiday:
Sophisticated identity fraud and cargo theft schemes targeting truckload shipments of solar panel modules, tree nuts, small appliances and designer apparel in Southern California
Theft of loaded trailers of high-end consumer electronics, apparel and housewares in Kentucky and neighboring states
Theft of loaded trailers and containers of building materials, apparel, appliances and food products in eastern Georgia, southern Georgia, and northeastern Florida
Theft of loaded trailers of food and alcohol, apparel and other various goods in northeastern Pennsylvania, northern New Jersey and New York City
CargoNet added that logistics brokers should be on high alert for identity fraud and cargo theft schemes, as use of these tactics have been rampant for shipments departing Southern California.
[Related: Fight double-brokering fraud: Prevention, ways to elevate enforcement]
"We implore organizations that are tendering shipments over the internet to verify details of all transactions prior accepting a bid," CargoNet said. "Shippers should warn motor carriers of misdirection theft schemes and verify the intended delivery address with the driver prior to loading. Public cross-dock facilities operating in Southern California should be wary of new customers offering all-cash payment and promising lucrative future business."
CargoNet said industry professionals can protect against trailer burglaries and theft of loaded trailers by arranging for same-day delivery of short-haul shipments, embedding covert tracking devices in shipments and on vehicles, and using high-security locks. Drivers should not leave their vehicles or shipments unattended in insecure locations like retail parking lots or truck stops, especially within 250 miles of pickup.
If it's necessary to leave trucks unattended, CargoNet recommends someone check on it as frequently as possible. On average, it took about one day for a victim to notice their property had been stolen in this analysis, but this increased to over two days if the property was left unattended the day before Thanksgiving. Drivers should also be on the lookout for any vehicles that appear to be following them from the origin point.
[Related: Double-brokering scams that can result in theft of more than just money]
Love's adds 90 truck parking spaces with new Ohio location
Love's Travel Stops this week opened a new store in Madison, Ohio, off of I-90, east of Cleveland.
The location boasts 90 truck parking spaces, an Arby's restaurant, nine diesel bays, seven showers and more.