Trucking news and briefs for Wednesday, Nov. 16, 2022:
5,000 trucks placed out-of-service during Brake Safety Week
Nearly 87% of commercial motor vehicles inspected during Brake Safety Week in August had no brake-related critical violations, the Commercial Vehicle Safety Alliance announced this week.
Of the 38,117 commercial vehicles inspected across the U.S., Canada and Mexico during the week, only 5,059 (13.3%) were placed out of service.
Fifty-three Canadian and U.S. jurisdictions, and Mexico's Ministry of Communications and Transportation, participated in this year's Brake Safety Week, which is a voluntary brake-safety inspection and enforcement initiative.
Broken out by country, in the U.S., of the 34,402 commercial motor vehicles inspected, 4,664 (13.6%) were placed out of service.
inspectors in Canada inspected 1,975 commercial motor vehicles and placed 351 (17.8%) out-of-service for brake-related violations. In Mexico, 1,740 commercial motor vehicles were inspected, and 44 (2.5%) were placed out of service.
Additionally, inspectors identified and documented 6,305 brake hose/tube chafing violations, which are a common brake-related violation and was the focus area for this year's Brake Safety Week. Inspectors reported brake hose chafing violations in four different categories, with varying levels of chafing severity, including two which were out-of-service violations.
In addition, 11 jurisdictions with performance-based brake testers assessed the braking performance of 392 commercial motor vehicles during Brake Safety Week. Twenty-nine trucks failed their PBBT test – a 7% out-of-service rate. PBBTs, based on mechanical or electronic decelerometers, assess the overall vehicle braking capability through a stopping performance test in which deceleration and/or stopping distance is obtained, independent of brake type or application method.
Next year's Brake Safety Week is scheduled for Aug. 20-26, 2023.
Used-truck sales took a dive in October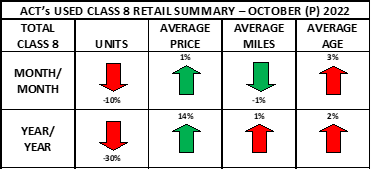 Preliminary used Class 8 retail volumes (same dealer sales) decreased 10% month-over-month in October and were 30% lower compared to October 2021, according to the latest preliminary release of the State of the Industry: U.S. Classes 3-8 Used Trucks, published by ACT Research.
Other data released in ACT's preliminary report included month-over-month comparisons for October 2022, which showed that average retail price ticked up 1%, average miles declined 1%, and average age increased 3% from September's readings. Compared to October 2021, the average retail price was 14% higher, with average miles and age both greater by 1% and 2%, respectively.
"Drama in the used truck market increased in October, as the average retail sales price moved counter to expectations, ticking up a scant 1% m/m," said Steve Tam, vice president at ACT Research. "While a welcome change from the monotonous drumbeat of persistent decline, nothing fundamental that would recalibrate expectations has changed."
Relating to new truck builds, Tam said watching new truck assembly can be informative about used-truck supply. "As the OEMs have continued to make incremental progress on overcoming supply-chain constraints, marginal improvements in output have logically followed," he said. "Looking ahead, other forces will step in and offset those improvements."
Colorado DOT warns of early-morning sun glare along I-70 Eastbound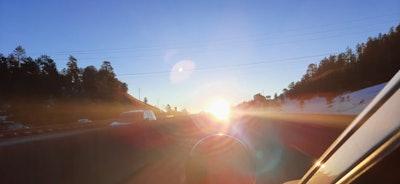 The Colorado Department of Transportation is reminding drivers that closures due to sun glare can occur in the morning hours on I-70 Eastbound at Floyd Hill from November through February, annually.
The sun's angle, in combination with the hill and the highway's configuration, CDOT said, can create a blinding sun glare for drivers as they head eastbound on I-70 up Floyd Hill (near milemarkers 244 to 248, east of Idaho Springs). The intense sun glare occurs as far east as Genesee beginning around sunrise and lasting until around 8:30 a.m.
CDOT provides advance notification of the potential hazard with messages on its electronic sign boards prior to Floyd Hill, alerting drivers of the sun glare and to anticipate slower speeds.
Drivers who travel eastbound I-70 in the early morning hours during fall and winter are urged to pay attention to the overhead message boards beginning just east of the Eisenhower Johnson Memorial Tunnel. Additionally, drivers can check the latest travel alerts by going to COtrip.org.
The decision to close I-70 due to sun glare is made on a case-by-case basis each morning with collaboration between Colorado State Patrol and CDOT personnel who are stationed near Floyd Hill.
If a sun glare safety closure is in place, CDOT recommends the following detours:
Traffic headed eastbound on I-70 will be rerouted at Exit 244 (U.S. 6), which is at the bottom of Floyd Hill
Motorists can either stay the course on U.S. 6 through Clear Creek Canyon, or they can take the eastbound I-70 frontage road (U.S. 40) and get back onto I-70 at Beaver Brook (Exit 248)
Truckers should be aware, there are height restrictions in the tunnels along U.S. 6 Clear Creek Canyon, therefore no vehicles over 12' 7" can travel this route
There is a project starting soon on U.S. 40 to build roundabouts at County Road 65 and Homestead Road, but any lane closures associated with this project will be lifted if there is a sun glare safety closure in place
The closures average around 45 minutes to an hour and can occur between sunrise and 8:30 a.m.