Trucking news and briefs for Monday, Oct. 24, 2022:
Digital dash display freezes prompt large Paccar recall
More than 76,000 Kenworth and Peterbilt tractors are being recalled over an issue causing the trucks' digital dash display to freeze and fall out of compliance with Federal Motor Vehicle Safety Standards.
According to National Highway Traffic Safety Administration documents, Paccar is recalling approximately 76,492 vehicles equipped with 15-inch digital dash displays. Affected trucks include certain 2022-2023 Kenworth T680, T880 and W990 models, as well as Peterbilt 365, 367, 389, 567 and 579 models.
The recall states that the digital display may freeze and not display critical safety information. As such, these vehicles fail to comply with the requirements of Federal Motor Vehicle Safety Standard numbers 101, "Control and Displays," and 102, "Trans Shift Lever Seq/Starter Interlock/Trans Braking Effect."
Dealers will update the software, free of charge. Owner notification letters are expected to be mailed Dec. 16. Owners can contact Kenworth's customer service at 425-828-5888 and Peterbilt's customer service at 940-591-4220 with recall numbers 22KWK (Kenworth) and 22PBK (Peterbilt). NHTSA's recall number is 22V-779.
[Related: Meritor axle issue prompts Navistar, Daimler recalls]
Trucking conditions improved in August to near neutral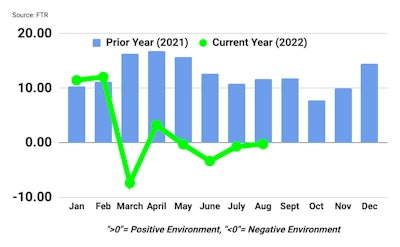 FTR Transportation Intelligence's Trucking Conditions Index (TCI) improved slightly in August to -0.25 from the previous -0.7 reading in July.
The marginally stronger trucking conditions owed almost exclusively to falling diesel prices, FTR said, since back on the increase, by and large. The largest negative factor came from financing costs as the Federal Reserve continued to battle inflation through sharp increases in the federal interest rate.
Meanwhile, freight market dynamics were slightly weaker in August than in July, although freight volume was still a tiny positive contributor to the index calculation.
FTR still sees trucking market conditions in a period of moderate weakness at least through 2023.
"Although truck freight dynamics are softening broadly, smaller carriers likely will see a disproportionate negative impact in overall financial conditions due to sharp increases in financing costs and great volatility in diesel prices," said Avery Vise, FTR's vice president of trucking. "Because small carriers are less likely to have reliable fuel surcharges in place, they typically feel the effects of changing diesel prices more profoundly than larger carriers do."
Vise said that while that situation helped in July and August with falling diesel prices, "it will turn out to be a big negative in October, at least." He added that small carriers will also be less likely than larger carriers "to achieve comfortable financing terms for equipment and other needs for capital."
[Related: Trucking in a recession? Owner-operators sound off]
Autocar celebrates 125 years in business
Autocar celebrated its 125th year in business on Friday, October 21, as the nation's oldest purpose-built-trucks brand continues operations from its Birmingham, Alabama, headquarters.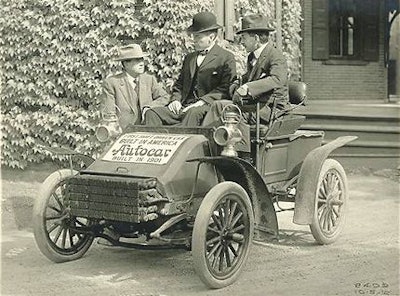 The 100% American-owned company builds all its trucks in America and used the occasion to highlight its amazing longevity and vision for the future.
"For well over a century, the Autocar brand has exemplified innovative designs, agile custom engineering and purpose-built severe duty trucks that continue to shape the American vocational truck industry," said Andrew Taitz, chairman of Autocar. "Since the brand's humble beginnings in 1897, Autocar trucks have been automotive pioneers ahead of their time."
The Autocar name was introduced on the first commercially available motor truck in the United States in 1899 and even marked America's first electric truck in 1923.
Autocar touted the subsequent nearly 100 years of work on electric vehicles, saying it was selling electric-powered vocational trucks throughout the 1920s. That work continues today, with Autocar's all-electric vocational vehicles such as the E-ACTT and the E-ACX.
[Related: The 1973 Autocar flagship of Silver Creek Transportation]