Trucking news and briefs for Tuesday, Nov. 15, 2022:
Former FMCSA employee charged with bribery, extortion
A federal grand jury in Houston has returned an indictment charging a former Federal Motor Carrier Safety Administration employee with bribery and extortion, according to the Department of Justice.
Patrick Gorena, 54, of Lyford, Texas, was scheduled to make his initial court appearance Monday, Nov. 14.
According to court documents, Gorena was a border investigator for FMCSA. In exchange for minimizing purported safety violations he encountered while auditing a trucking company, which would have exposed the company to potential fines and the loss of their ability to operate, Gorena allegedly demanded a $3,500 cash payment.
The charges allege Gorena ultimately accepted a $2,000 bribe from an undercover law enforcement officer posing as a representative of the trucking company.
Gorena is charged with one count of bribery and one count of extortion under color of official right. If convicted, he faces a maximum penalty of 20 years in prison on the extortion count and 15 years in prison on the bribery count.
A federal district court judge will determine any sentence after considering the U.S. Sentencing Guidelines and other statutory factors.
[Related: FMCSA's safety ratings trend negative: A majority issued in 2021 were 'Conditional']
Fuel prices level, spot rates down since mid-October
Diesel fuel prices across the U.S. have stabilized in recent weeks, holding steady just above a $5.30 per gallon national average, according to the Department of Energy's Energy Information Administration. Spot market rates, however, as also illustrated last week, have taken a step down as a national average over the same period, according to Truckstop and FTR Transportation Intelligence's weekly report
Since jumping 39 cents during the week ending Oct. 10 and another 11.5 cents during the week ending Oct. 17 to hit $5.34 per gallon, diesel's national average has barely moved, rising and falling by just pennies each week.
During the most recent week ending Nov. 14, the national average for diesel fell 2 cents from the previous week to $5.31 per gallon.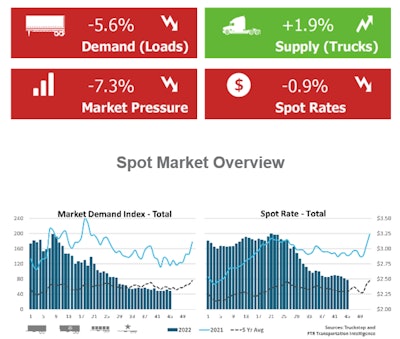 Regional variations abound in the fuel metrics.
New England saw a considerable 9.5-cent increase during the week, and the Rocky Mountain region saw a 6.3-cent jump.
Those increases were mostly offset by 5.1-cent and 3-cent decreases in the Gulf Coast and Midwest regions, respectively. California also saw a 1.1-cent decrease, and the Lower Atlantic region saw no week-over-week change.
California is still home to the most expensive fuel at $6.18 per gallon, followed closely by New England at $6.06 per gallon.
The cheapest fuel can be found in the Gulf Coast region at $4.89 per gallon, followed by the Lower Atlantic region at $5.24 per gallon.
[Related: Bad news for cost relief: Diesel forecast above $5 into next year]
Prices in other regions, according to EIA, are:
Central Atlantic -- $5.99
Midwest -- $5.32
Rocky Mountain -- $5.40
West Coast less California -- $5.41
ProMiles' numbers during the same week saw fuel prices increase by 3.6 cents to $5.39 per gallon.
According to ProMiles' Fuel Surcharge Index, the most expensive diesel can be found in California at $6.34 per gallon, and the cheapest can be found in the Gulf Coast region at $4.84 per gallon.
[Related: Only 25 days of diesel left? What to make of low inventories]