Trucking news and briefs for Wednesday, Nov. 9, 2022:
Public perception of truck drivers on the rise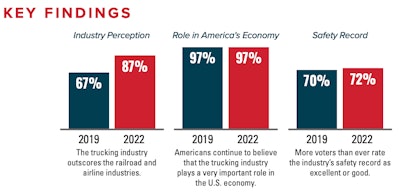 The public's perception of professional truckers is overwhelmingly positive, and up markedly from three years ago, with 87% of respondents in a recent survey saying they had a favorable impression of the trucking industry -- up from 67% in 2019.
That's one of the takeaways from a new survey by Trucking Moves America Forward. The research was commissioned by TMAF in September to measure the impact of the awareness and education campaign among American motorists since the previous survey, which was conducted in 2019.
"Our latest polling shows that the image of the trucking industry is stronger than ever," said Kevin Burch, co-chairman of TMAF and vice president of government affairs and sales at MTS. "The public perception of the trucking is at an all-time high with our poll finding that the majority of Americans ... have a favorable impression of trucking, which is the highest public opinion has been since TMAF began tracking industry views in 2014."
Key findings of the polling found:
87% have a favorable impression of the trucking industry, which is up from 67% in 2019
97% of Americans believe the trucking industry plays a "very important" role in the country's economy, which is the same as in 2019
72% rate the industry's safety record as "excellent" or "good," which is nearly the same as in 2019 at 70%
96% of Americans stated truck drivers are essential to keeping the country's economy moving
85% consider truck drivers to be professionals
78% believe truck drivers have higher standards for safety than other drivers
Respondents have generally heard people say more positive than negative things about trucking, with comments like "keeping stores stocked," "critical for the success of the country," and "keeping the country moving" as top responses. Trucking also ranked among the top three, along with grocery store workers and healthcare workers, as the group of workers that should be considered "essential or critical" during times of crisis.
Full results of this year's survey and how they compare with previous surveys can be found here.
[Related: Listen: Channel One-Nine Special from 'Over the Road' -- Driver's ed]
Florida DOT allowing emergency response trucks to bypass weigh stations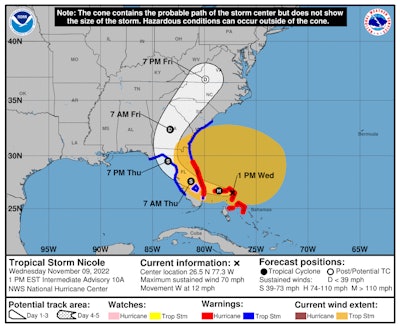 Ahead of Tropical Storm Nicole, which is expected to make landfall along Florida's east coast overnight Wednesday into Thursday, the Florida Department of Transportation is allowing emergency response vehicles to bypass weigh stations in the state.
FDOT's memorandum to motor carrier size and weight personnel in the state says emergency vehicles, including but not limited to utility vehicles, bucket trucks and supply trucks responding to Tropical Storm Nicole are given authorization to bypass all FDOT weigh stations through Nov. 18.
The authorization does not apply to vehicles that require a permit to operate in the state, and it does not relieve size and weight restrictions.
Trucker Path adds Geotab ELD, telematics to offerings
Trucker Path is adding the Geotab ELD and telematics technologies to its growing suite of products and services.
Branded as Trucker Path ELD Powered by Geotab, the ELD technology provides hours of service and DVIR compliance, while additional telematics capabilities add vehicle utilization, performance and health assessments along with others.
"We are excited to be adding ELD and telematics capabilities from Geotab to our ever-expanding set of offerings at Trucker Path," said Chris Oliver, CMO. "With a growing combination of strategically aligned and integrated products, we now offer a comprehensive set of solutions that includes all the essential technologies and services trucking companies need for successful, profitable operations."
The new offering is available in conjunction with other well-known services from Trucker Path, including:
The Trucker Path app relied upon by more than a million drivers throughout North America
TruckLoads, a digital load board
Command, a Transportation Management System software platform for small to mid-size fleets
Dispatch, a full-service dispatch service designed for small carriers and owner-operators
[Related: Trucking 'The Big Road' with new podcast, small fleet TMS for back-office/on-highway management]
Truckstop sponsoring Wreaths Across America
Truckstop (formerly Truckstop.com) this year has partnered with Wreaths Across America to spread awareness and encourage professional drivers and carriers to join the Honor Fleet, and help the national nonprofit fulfill its mission to Remember, Honor, Teach, with the delivery of live, balsam veterans' wreaths.
On December 17, National Wreaths Across America Day, the organization that is dedicated to honoring and thanking our veterans for their service and sacrifice coordinates a wreath-laying ceremony at Arlington National Cemetery in Virginia, as well as at more than 3,500 additional locations in all 50 U.S. states, at sea and abroad.
"This year our transportation partners will assist us in delivering more than two million veterans' wreaths to be placed on the headstones of our fallen heroes all over the country on December 17, 2022," said Don Queeney, WAA's Director of Transportation. "We are grateful for the support of companies like Truckstop who are taking the opportunity to give back in recognition of the sacrifice our veterans make, and because of their support we are able to fulfill our mission."
Driver named Highway Angel for rescuing four from crashed vehicle
Thaxton, Mississippi-based truck driver William Hancock has been named a Highway Angel by the Truckload Carriers Association for rescuing four motorists after their vehicle crashed into an overturned truck. Hancock drives for Ashley Distribution in Ecru, Mississippi.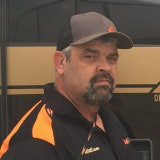 On June 23, Hancock was driving on I-22 outside Fulton, Mississippi, around 3:15 a.m. when another tractor-trailer veered off the road and overturned in front of him. A Dodge Challenger came up from behind, did not see the accident, and crashed into the top of the overturned trailer, Hancock said. He immediately pulled over.
"I jumped out of my truck," Hancock said, noting that there seemed to be smoke coming from the crashed vehicle. "It looked like the inside of the car was on fire. The biggest concern was getting them out of the car."
There were four passengers in the car, and Hancock proceeded to extract them from the vehicle. He was able to help three passengers out of the car but had trouble with the fourth.
"I went around to open the passenger-side door, and it wouldn't open at all," he said.
Hancock said the woman sitting in the passenger seat was disoriented from being struck by the vehicle's inflated airbag. He went back around to the back seat and pulled the woman over the seat and helped her exit out the back door. There were no serious injuries in the accident.
A truck driver for 24 years, Hancock recently completed cancer treatment and said he didn't hesitate to stop to help.
"If it was my family in that car, I'd hope somebody would stop to help them," he said.