It's been quite a while since the Overdrive Radio podcast has attempted to capture the vast dynamism of a trucking show quite like the one that took place for the first time in three years in Kentucky last week -- that's the Mid-America Trucking Show, MATS for short, of course. It'll be quite some time before we convey the full breadth of everything encountered there (stay tuned over these next weeks), but for today on this April Fool's Day edition we'll get to two aspects: first with the voice of a brand-new podcast, none other than a longtime operator now piloting a mostly-trucking-focused audiovisual production company called the Texas Media Foundry.
That'd be James "Tex" Crowley, out now with the intro episode of his 'The Big Road' podcast that you'll hear in full in today's Overdrive Radio. The show is inspired in part by his career behind the wheel, and a real passion for trucking all told.
Before we get his story in the episode, though, George Thellman walks us through one among scads of new Transportation Management Systems geared toward the smallest of carriers that have popped up around the trucking technology landscape.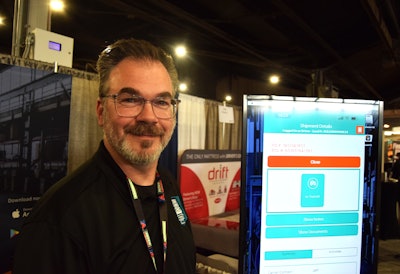 Thellman notes RAN Transportation Solutions' Lynks TMS is targeted not only to small carriers but to shippers and brokers as a way to grease the skids for dispatch management, invoicing for collections, management of supporting documents out on the road for drivers using the associated Lynks app, and more. It's live commercially as of today, April 1, and joins a growing subset of the big TMS software market, including the recent Command system from the Trucker Path company, among many others that are geared toward speeding up the digital handoff between carriers and their customers, and cementing close, efficient relationships with operators in the field.
There's utility there, as Lynks' Thellman explains, for one-truck independents, and particularly those who want to set themselves up with back-office tools as they grow beyond that one truck. Take a listen: