Truck owners and operators know that each day on the road represents a test. Roadside inspectors and other law enforcement, electronic logging devices, employers, dash cams, and all sorts of tech under the hood constantly record thousands of data points about the smallest details of a driver's performance.
But what happens when drivers get to grade the facilities where they pick up and drop off? Digital freight brokerage Convoy's new 2021 Annual Freight Insights Report shed light on terabytes of data and 2.7 million facility rating reviews across the company's customer network to boil down what exactly drivers say about shippers and receivers.
The report has some surprises, but mostly reinforces the notion that detention time kills income and patience for drivers. Convoy's report falls against a backdrop of a historically strong freight market and an Overdrive poll showing that a plurality of owner-ops, about 35%, expect to make even more money than they did last year; about 30% expect to stay at the same high level; and the rest of the votes split between a slower year and general uncertainty.
Another important piece of context for Convoy's report comes from MIT, where scientists studying the freight industry recently told Congress that the perceived "driver shortage" really amounts to widespread driver underutilization. Basically, despite having 11 hours of possible drive time per day, most in the drivers' seat don't use more than 7 of those hours.
MIT's Dr. David Correll, a research scientist who spent the last four years observing and talking to 4,000 OTR drivers, told Congress that an extra 20 or so minutes of drive time a day could effectively reverse then-current shortage estimates calculated by the American Trucking Associations. Correll recommended that freight carriers police detention at shipper facilities by issuing letter grades to different facilities, much in the same way a restaurant gets and displays a grade from the health department.
With the idea of empowering drivers by giving them insight into conditions and shipper facilities in hand, Convoy's report makes for some pretty interesting reading.
[Related: The No. 1 barrier to truckers' efficient hours utilization]
Everyone got 2021 wrong
Convoy's report opens up with a recap of the year gone by and the many, many economic predictions that fell flat. Going into the year, the main narratives were of a driver shortage making supplies scarce and a population eager to come out of lockdown and switch up spending toward more services, like bars and restaurants, and away from buying goods. As we now know, the lockdowns and restrictions, though certainly eased, never really fully went away as a phenomenon, and demand for goods never fully subsided.
On the "driver shortage" front, Convoy mentioned that the FMCSA issued more than 100,000 new motor carrier authorities to new trucking companies. "The majority of these permits went to owner-operators, who are not counted in the monthly jobs numbers reported by the U.S. Bureau of Labor Statistics," the report read. "Even though larger fleets are struggling to hire drivers, the number of active truck drivers is now at or slightly above pre-pandemic levels."
Additionally, extreme weather events and an uneven economic recovery made major economic forecasters, like the Federal Reserve, miss wide on forecasts, sometimes even just a few months out.
[Related: Three common fallacies in popular 'driver shortage' arguments]
What drivers really think of shipper facilities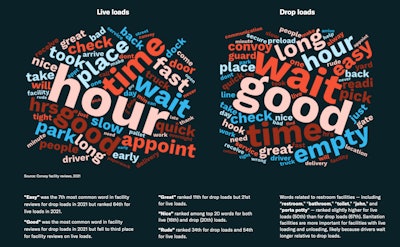 Convoy's chief insights from nearly 3 million carrier reviews of shipping facilities boil down to the following: "Carriers give the highest reviews to facilities that respect their time," and the notion that such reviews "are just starting to play a transformative role in the freight industry."
The first insight closely follows common sense and what every owner-operator knows: Detention time is an income killer.
The second insight has a decent chance at transforming the industry in drivers' favor.
"Customer reviews are known in the restaurant industry, where they moved beyond printed travel guides to living online forums," in the words of the report. "The industry was forced to adapt: Struggling locations could no longer hide behind a curtain of anonymity. And standout locations could suddenly broadcast powerful (and genuine) customer testimonials to the world."
The reviews, which Convoy shows carriers before booking a load, can go a long way to helping the market correct itself around the real cost of a haul. As do other platforms with a variety of shipper-and-receiver metrics, Convoy's platform formalizes the rating and review process, as opposed to having that information confined to loose talk among drivers at truck stops. With more time and visibility, shippers might just get the hint that keeping drivers happy will keep product moving.
Carriers will get "even more of an upper hand in tight markets," according to the report, "when the number of shipments overtakes the number of available trucks. Reviews about poor facility experiences hinder shippers' ability to get capacity. The only way to get more is to pay more."
[Related: Rise of the 'shipper of choice' phrase, particularly when it involves truck parking]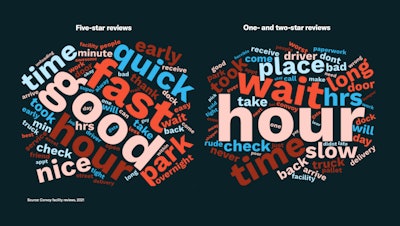 With regard to Convoy's first central insight -- essentially that carriers like a quick turnaround -- something a little surprising emerged from the data. An overwhelming majority of loading and unloading experiences got five out of five stars. Results show that 68% of live loads and 78% of drop loads eventuated in a five star review of a facility. Despite frequent anecdotes about untenable dwell times, when it comes down to it, operators are mostly satisfied with facilities. Convoy noted that, typically, star rating review systems skew heavily toward five stars, whether they're on Google or Amazon reviews, likely due to "respondent bias and misaligned buyer/seller expectations."
But rather than hide behind a potentially skewed five-star rating, Convoy suggests interrogating the results. "Celebrate the good, but don't ignore the bad. Hard-hitting reviews like this one — 'Very rude, no communication and don't want to resolve problems -- had to wait 3 hours for what was supposed to be a preloaded trailer.' — don't go unnoticed by other carriers."
The reported also noted a slight dip in five-star reviews over the summer months, suggesting facilities hold increase training to keep those loads moving smoothly.
Five keys to running a great facility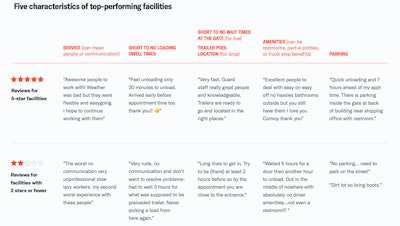 Convoy's analysis of millions of words, in addition to tens of thousands of emojis, led them to distill five key pillars of a great facility, something more might do well to heed.
Service, or how well the people at the facility communicate and work with drivers. Reviews show that even with long dwell times, a facility can land a five-star review if staff communicate with the driver and take responsibility for their performance.
Dwell time. Obviously, shorter is better.
Wait times, at gates for live loads and in trailer pools for drop loads. Again, shorter is better.
Amenities. Access to restrooms, for instance, and/or cover from bad weather.
Parking. Drivers appreciate being able to park closely and/or onsite. Not having parking available can make the operator feel unwelcome.