Kenworth
Kenworth is celebrating its 100th birthday throughout 2023. It was officially this past month on January 22, and to commemorate the milestone, Kenworth introduced a 100th anniversary Kenworth W900 Limited Edition. Only 900 of the limited-edition model will be produced, and during a press conference February 15, reps noted intense interest from would-be owners.
The special model is available with power options available in standard W900s and in three configurations -- 86-inch Studio Sleeper, 72-inch Flat Top and Extended Day Cab. The all-black Limited Edition Diamond VIT interior marks its 100th anniversary status.
Other interior features include a special-edition steering wheel, brushed platinum dash and door trim, and Kenworth 100 logos throughout on the doors and thresholds. And generally, Kenworth reps noted a special attention to upgrading accents custom-truck owners typically pay close attention to -- an optional special visor, exhaust shields, and more.
And for anyone tempted to read more into the limited edition model, it doesn't signal the end of the W900 model. As long as regulatory requirements around emissions are such that new W900s can be built, Kenworth will continue to build them, reps said.
[Related: When Kenworth debuted the W990 in 2018]
Exterior elements include Kenworth 100 sleeper badges. A Kenworth 100 exhaust shield cutout and sun visor are optional. An optional centennial tri-color paint design brings a classic look to the W900, and is only available with the 86-inch Studio Sleeper and 72-inch Flat Top.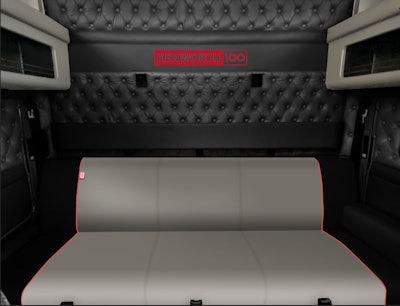 "The Kenworth W900 is an all-time classic and iconic truck in the industry that is still admired on the road and at truck shows," said Jim Walenczak, Kenworth assistant general manager for sales and marketing. "As a long-time staple of Kenworth's history, there is no better way to kick off our year-long 100th anniversary celebration than by launching this Kenworth W900 Limited Edition."
[Related: A dry-bulk run with owner-operator John McCormick and his 'Bandit' '21 W900L]
Each Kenworth W900 Limited Edition will be serialized -- 001 through 900 -- in order of build date and sequence with a special Limited Edition badge on the glovebox. All 900 units will be built in 2023, with production beginning this week.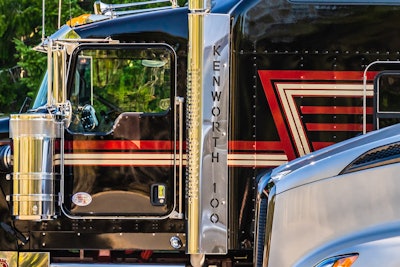 Kenworth is also introducing four signature paint colors available on new Kenworth Class 8 and medium-duty trucks: Century Platinum, Century Black Red, Century Red and Century Gold.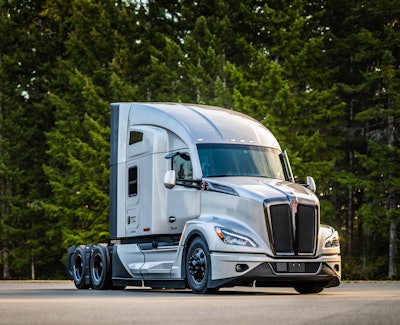 Like the W900 Limited Edition, the T680 Signature Edition will boast special interior and exterior features to signify the milestone on what is its flagship fleet-spec unit. Interior comforts and accents in the Signature T680 were designed to deliver something special to the driver, reps noted, with legacy red stitching throughout, premium leather seats and high-quality trim.
Both W900 and T680 special editions will be part of ride-and-drive activities adjacent to the Mid-America Trucking Show in Louisville, Kentucky, at the end of next month. The company also plans to bring a truck from its founding 1923 year, one of several making the rounds of shows throughout the year, said Genevieve Bekkerus, Kenworth director of marketing.
The company's also partnered with the American Truck Historical Society to showcase Kenworth models throughout history "at a number of shows .... trucks from every decade." A calendar of ATHS events is available at this link.
Readers can also access a 100th-anniversary Kenworth website, launched just today, via this link. There find information about upcoming events, company history, an online shop with vintage-branded gear and much more.
[Related: First and 'second' looks at Kenworth's Icon 900 after introduction in 2015]