Trucking news and briefs for Tuesday, Feb. 14, 2023:
Car haulers push for increased weight limits for electric car transport
A coalition consisting of car haulers, vehicle and trailer manufacturers and more last week penned a letter to members of Congress seeking increased weight limits for car haulers transporting electric vehicles.
The Coalition for Electric Vehicle Transportation (CEVT) said one of the only things Congress did not address in the Infrastructure Investment and Jobs Act related to electric vehicles was the actual transportation of those vehicles.
"In short, electric vehicles are heavier than their gas-powered counterparts and federal truck weight laws -- unchanged in 40 years -- reduce electric vehicle load capacity by as much as 28%," the coalition said.
CEVT asked members of Congress for targeted legislation that would increase gross vehicle weight limits for stinger-steered auto haulers by 10% (8,000 pounds), while capping single and tandem axle groups at a 10% increase.
"Despite our best efforts and decades of innovation, industry has been unable to resolve this issue on its own," CEVT said. "Trailer manufacturers have already removed as much trailer weight as they can without jeopardizing the structural integrity of the trailer itself, and automobile carriers have explored different vehicle configurations. In other words, we are coming to Congress as a last resort, not a first step."
CEVT includes the Auto Haulers Association of America, the Automobile Carriers Conference of the American Trucking Associations, Truck Trailer Manufacturers Association, car hauling trucking companies Hansen and Adkins Auto Transport and Jack Cooper Transport, and more.
[Related: Turmoil in the auto market, long-term rates challenges buff the shine off earning potential in car hauling]
Diesel hits lowest national average in nearly a year, spot van rates fall in tandem
For the first time in nearly a year, the national average for a gallon of on-highway diesel has fallen below the $4.50 threshold, according to the Department of Energy's Energy Information Administration.
The last time the national average was below $4.50 a gallon was just after Russia's invasion of Ukraine in February 2022, during the week ending Feb. 28 when prices sat at $4.10 per gallon. On the revenue side of the equation for owner-operators, spot market rates are down considerably over the same time frame, with van and reefer rates cooling further in the last week to levels below the five-year average, according to Truckstop.com and FTR Transportation Intelligence's weekly report.
During the week ending Feb. 13, diesel prices fell 9.5 cents to $4.44 per gallon.
During the most recent week, prices fell in all regions across the U.S., with the largest decrease being seen in the Lower Atlantic region, where prices fell 12 cents.
The nation's most expensive fuel can be found in California at $5.45 per gallon, followed by New England at $5.05 per gallon.
The cheapest diesel is in the Gulf Coast region at $4.15 per gallon, followed by the Midwest region at $4.27 per gallon.
Prices in other regions, according to EIA, are:
Central Atlantic -- $4.95
Lower Atlantic -- $4.50
Rocky Mountain -- $4.66
West Coast less California -- $4.67
ProMiles' numbers during the same week saw fuel prices increase by 8 cents to $4.61 per gallon.
According to the ProMiles Fuel Surcharge Index, the most expensive diesel can be found in California at $5.74 per gallon, and the cheapest can be found in the Gulf Coast region at $4.19 per gallon.
Rates to the truck were flat on average over all segments last week, though as previously noted, spot van and reefer cooled considerably.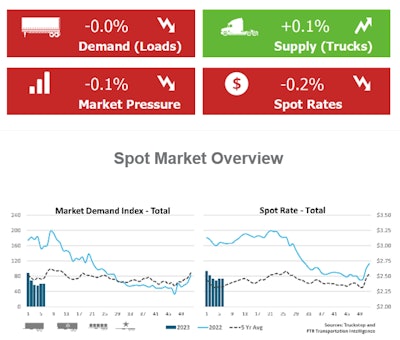 Year over year, the picture is considerably dimmer, as shown in the graph -- while fuel prices remain elevated above 2022 levels for this time of the year, average rates are more than 50 cents/mile below 2022 levels, reducing profit potential for many owner-operators working the spot markets. Catch more granular detail in reefer, dry van and flatbed rates performance in the weekly update from FTR and Truckstop.com.
[Related: More freight fraud inbound? Pessimistic rates outlook sets the stage]