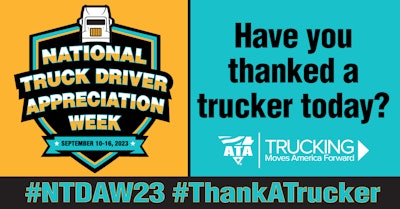 Trucking Moves America Forward
National Truck Driver Appreciation Week kicks off Sunday, Sept. 10, and companies from all around trucking are showing thanks through various deals, offers and words.
NTDAW officially runs Sept. 10-16, and a number of companies have expanded their appreciation efforts to last the whole month of September.
Below, find a list of some companies recognizing the hard work put in by operators of all stripes. Stay tuned as NTDAW approaches for additions to the list, as well.
Truckstop supporting trucker health during NTDAW
In recognition of National Truck Driver Appreciation Week, Truckstop surveyed over 500 long-haul truck drivers to gain an understanding of the challenges they face on the road to eat healthy and stay active.
"As we mark National Truck Driver Appreciation Week, it's imperative we shed light on the real challenges drivers face every day," said Kendra Tucker, CEO, Truckstop. "This research underscores our commitment to understanding their unique struggles and advocating for truck drivers' overall well-being. A big thank you for all that you do and know that your efforts are truly appreciated."
The survey revealed the following insights:
Truck drivers are challenged to find healthy eating options while on the road mainly due to: Parking (most healthier food options don't have truck access) (43%), lack of access to healthy eating options (41%), lack of time (40%), don't have ability to cook in my truck (e.g., don't have cooking equipment) (36%), cost (buying healthier food options are expensive) (34%).
Over a third (36%) of those surveyed said their primary method for eating on the road is ordering fast food while eating at non-traditional food places like gas stations and truck stops are also fairly popular (30%).
Fifty-nine percent of truck drivers surveyed believe they eat healthily when on the road, yet over a third (37%) indicate they cook their own meals on a fairly regular basis.
Finding time to exercise on the road is much more difficult than when at home due to: Fatigue from driving all day (52%), a lack of time (48%), lack of access to exercise options (48%) and difficulty finding a place to park truck that provides exercise options (42%).
Naturally, most long-haul drivers spend most of the day inactive as the majority only stop once (11%) or twice (49%) a day to exercise/stretch -- only 36% stop 3 or more times a day.
Although 90% of drivers surveyed indicate they get at least one exercise session per week, most (69%) are exercising only one to two times per week.
For those who exercise, the most common places for them to go are anywhere outside (44%), preferably at a park or hiking trail (40%), although 40% indicated they will exercise in their truck if they have to.
Truckstop is also supporting the St. Christopher Truckers Development and Relief Fund (SCF) with a donation tied to their National Truck Driver Appreciation Week campaign, which runs throughout the month of September.
Finally, Truckstop is hosting its Rockstars of the Road: Highway to Health campaign on Facebook, where followers can win prizes while honoring truck drivers.
Alternately, email Alex Lockie directly with your thoughts on appreciation week events.
Ferrellgas honoring drivers with social media campaign
To honor truck drivers this week, the employee-owners at nationwide propane logistics company Ferrellgas Partners, L.P. have made plans to recognize and celebrate the nearly 2,500 drivers who help "Fuel Life Simply" for hundreds of thousands of propane users nationwide.
"Dependable Through and Through" is the theme of Ferrellgas' driver recognition throughout the week. It's a fitting choice for a company that was named one of Newsweek's Most Trustworthy Companies earlier this year, the company said.
"Mention the name Ferrellgas or Blue Rhino to anyone across the country, and the first image that comes to mind for many is the face of their Ferrellgas or Blue Rhino driver," President and CEO Tamria Zertuche said. "It's no secret how important they are to our business and to the customers they serve throughout the year. We're thankful to get to recognize them during this special week."
The company will celebrate NTDAW by thanking Ferrellgas and Blue Rhino drivers via social media posts and celebrations held at local Ferrellgas offices.
Carolina Tarps hears from owner-ops on challenges of the job
Carolina Tarps recently sat down with a group of independent truckers at Saskatoon Steakhouse in Greenville, South Carolina, to discuss the highs, lows and misconceptions of life on the road. An 18-minute video, shown above, captures the essence of the conversation.
"My hope is that the insights from the evening will encourage other truck drivers, as well as give some much-needed perspective to those outside the industry," said Jaron Ferrer, Carolina Tarps Operations Director.
Among the issues truckers face are detainments that significantly impact their schedules, inadequate and even hostile communication from receivers, and lack of respect for their expertise, the company found.
"The average person doesn't understand that it takes half a mile to get down to zero from 65," said Travis Mercer of IRF Transport. Limited accessibility to parking and bathrooms are also at the top of the complaint list.
Benefits of being an owner-operator include a flexible schedule, being your own boss, and the undeniable fun of "running big iron."
"There's nothing like working for yourself, even if you have to work seven days a week," said Faith Johnson of Screaming Hawk Transportation, a sentiment that had heads nodding all over the room. Everyone agreed that trucking is not an easy life, but the freedom it provides makes it well worthwhile.
"This industry makes or breaks people really fast," said Bishop Gilliam, owner of TALSC Designs. "In the first 30 days, you decide whether you want to fight for parking spots, look for showers, and be in traffic all the time. The industry as a whole is going to decide for you whether you can stay out there."
Army & Air Force Exchange honors 200-plus drivers in network
The Army & Air Force Exchange Service is saluting drivers who go the extra mile -- literally -- to fulfill its 128-year-old "We Go Where You Go" mission during National Truck Driver Appreciation Week.
The Exchange, the Department of Defense's largest retailer, has more than 200 truck drivers delivering essential products to PXs, BXs and Express convenience stores around the world. Service members and military families count on the hard-earned Exchange benefit for tax-free merchandise, including from name brands, to bring a taste of home wherever they are.
"The Exchange is driven by heroes," said Army Col. Kenneth McGraw, the Exchange's deputy director of Logistics. "Exchange drivers are a vital part of the mission, handling everything from long hauls to harsh weather to rough roads and more to bring the best tastes of home to service members and their families. It's an honor to extend gratitude to them during this special week."
During NTDAW, PXs and BXs worldwide will honor drivers with signs, banners, words of thanks and more.
The Exchange operates more than 5,100 facilities in more than 30 countries, 50 states and four U.S. territories. One hundred percent of earnings support military communities. The Exchange has generated $3.5 billion in earnings for military Quality-of-Life programs in the last 10 years.
The Exchange operates the 13th-largest private retail fleet in the U.S. and is the third-largest shipper in the Defense Transportation System. In 2022, the Exchange shipped 41 million cases and drove more than 12 million miles. The fleet also provides critical natural disaster support --hauling 53-foot mobile field Exchanges, essentially a store on wheels.
Convoy offering trailer rental savings, naming award winners
Digital brokerage company Convoy is recognizing truckers during NTDAW with a special offer.
During NTDAW, any carrier who hauls with Convoy is eligible to save $700 on a two-month trailer rental.
The company said it has seen carriers increasingly looking for better access to trailers to grow their fleets as they expand their businesses. Convoy's trailer return options on power-only loads have increased from 7 to 14 days, and carriers can now rent trailers from Convoy for a month or longer.
The brokerage will also announce next week the winners of its fifth annual Haul Stars Awards. This year, 11 carriers will be recognized for their outstanding work and industry leading quality. Each winner will receive their own commemorative trading card, along with a $250 Target gift card and a Convoy swag box.
RaceTrac offering food deals, giveaways
RaceTrac is celebrating truck drivers with special perks at its travel center and EDO (Expanded Diesel Offer) stores throughout the month of September.
"We see Truck Driver Appreciation Month as a great opportunity to recognize the people who dedicate so many hours on the road to delivering the goods we depend on daily," said Mark Reese, the vice president of operations, maintenance and store support at RaceTrac. "As a business, RaceTrac relies on truck drivers not only to supply our store with fuel and products, but also as valued customers who stop in to fill up with us. We believe it's important to show thanks for the hard work these drivers give, day in and day out."
During official Truck Driver Appreciation Week, fun, in-store promotions and giveaways will take place, including:
Professional Driver Food Offer:
$4 Meal Deals -- Two slices of pizza and 20 oz. Coke product; or fresh sub, wrap or wedge sandwich and 20 oz. Coke product; or two hot dogs, bag of RaceTrac chips and 20 oz. Coke product.
Professional Driver Giveaways:
Sept. 10-16, Nathan's Famous Hot Dogs is sponsoring a free hot dog at any RaceTrac store.
On Sept. 15, from 10 a.m. to 2 p.m., Lynco Products will host free item and coupon giveaways at select travel centers, including several grand prizes such as Bluetooth headphones, speakers and BlueParrott headsets.
The $4 meal deals and free hot dog offers are redeemable at all RaceTrac stores for truck drivers only through a RaceTrac Rewards in-app coupon.
For additional perks, drivers can use their RaceTrac Rewards app to earn 2x points all month long (Sept. 1–30) on in-store purchases, making it even easier to build up points for free food, drinks and even fuel on future RaceTrac store visits.
Pilot offers deals on food, drinks
Throughout September, Pilot Company is offering free drinks and discounts on meals to thank drivers for all they do to keep North America moving. The company said it will also host a celebration at one of its newly remodeled truck stops in North Little Rock, Arkansas.
"Professional drivers go the extra mile to keep our economy running," said David Hughes, senior vice president of sales at Pilot Company. "On behalf of Pilot Company, we want to express our heartfelt gratitude to all the professional drivers out there for your tireless efforts and dedication. We are truly honored to be able to serve you."
In September, truck drivers will be able to enjoy savings through the myRewards Plus app at participating Pilot, Flying J and One9 travel centers, including:
Three free drinks every week on Pilot coff­ee, fountain drinks, and top-selling beverage brands from the cooler
Offers on freshly prepared foods each week -- including 50% off pizza, burgers, salads and more
Food and beverage discounts of 10% for active military or veteran truck drivers (after authentication through ID.me)
Additional off­ers, including food and beverage buy-one-get- one deals throughout the month
Canadian professional drivers will automatically receive an extra bonus point per four liters when they swipe their myRewards card
Pilot Company will also host a community celebration for professionals at the Pilot at 3300 AR-391 in North Little Rock, Arkansas, which was recently remodeled as part of Pilot Company's New Horizons initiative. Drivers and guests are invited to join the festivities on Sept. 13 from 3:30-7:30 p.m. for a lawn party complete with prize giveaways, refreshments, outdoor games, and music.
Love's offering month of deals
Love's Travel Stops is also recognizing truckers throughout September with offers through My Love Rewards and on the Love's Connect app.
"As National Truck Driver Appreciation Week arrives, we extend our gratitude to the heroes of the highway: professional drivers," said Shane Wharton, president of Love's. "Their grit and sacrifice embody the spirit that propels our nation's progress forward and we proudly honor their invaluable contributions."
My Love Rewards members will receive an email with two offers available throughout September. Drivers can enjoy a free Love's-branded consumable product up to $5 in value, including Love's water, bagged candy, salty snacks and trail mix. They can also earn $10 in My Love Rewards points on an oil change and preventive maintenance at any Love's Truck Care or Speedco location during the month. Members can activate both offers with a single tap in the special offer email they receive.
Additional deals include:
Fresh food and drink deals Sept. 11-15.
Free hot sandwich, bowl or fresh salad with an oil change Sept. 11-15.
Free Love's hat with the purchase of a 3-pack of gloves for $9.99, while supplies last.
As always, My Loves Rewards provides drivers with free fountain drink refills and showers with any commercial diesel fuel fill of 50 gallons or more.
TA locations celebrating drivers
TravelCenters of America is recognizing professional drivers across the country Sept. 10-17 for their countless efforts and contributions. To honor drivers, TA said it has curated an exclusive driver experience to show its appreciation.
Professional drivers who stop at participating locations during National Truck Driver Appreciation Week will have the opportunity to engage in activities and initiatives, including:
Cookouts
'Thank You' cards with coupons
Window washes
Truck mid-trip and tire inspections
Goodie bags
Cornhole tournaments
The theme for this year's National Truck Driver Appreciation Week is 'Drivers Go the Extra Mile!', marking TA's 51st year, the company said. TA has a variety of programs tailored to the needs of truck drivers, including a collaboration with Cleveland Clinic, providing healthy food options for truckers on the road.
St. Christopher Fund sharing driver recognition
The St. Christopher Truckers Relief Fund (SCF) is gearing up for Truck Driver Appreciation Week with special messages of gratitude and recognition to truck drivers with the help of corporate sponsors Brenny Transportation, Shell Rotella, Pilot, Echo Global Logistics and Truckstop.
Each of the sponsors has donated $5,000 to St. Christopher as part of the campaign, which kicked off on Sept. 1 and will run through Sept. 30. The campaign includes a landing page with statements of support, and pictures and stories of drivers that are the backbone of the corporate sponsors.
"I am so proud to be the St. Christopher Fund Board President, which gives me one more opportunity to highlight the importance of professional truck drivers," said Joyce Brenny, president of Brenny Transportation Inc., & Brenny Specialized. "Professional truck drivers, you are the leaders of our industry! Thank you!"
Over the last 15 years, nearly 4,000 drivers have turned to the St. Christopher Truckers Relief Fund for support when an illness or injury took them off the road.
This campaign recognizes drivers as essential trucking heroes and shares real names and faces of real drivers delivering real goods. Drivers will be highlighted on SCF's TDAW landing page. To nominate a driver go to SCF's TDAW landing page and share your driver's story.
TMAF leading public awareness campaign for drivers
The trucking image awareness group Trucking Moves America Forward (TMAF), in its ninth year, is supporting National Truck Driver Appreciation Week with a public awareness campaign to acknowledge and support America's 3.5 million professional truck drivers.
"We are honored to pay homage to America's professional truck drivers on the front lines, who supply our nation with everything we need, moving 11.5 billion tons of the nation's freight each year," said Kevin Burch, TMAF co-chair and MTS VP of sales and governmental affairs. "I am proud of the participation of the state trucking associations and companies who joined the TMAF #ThankATrucker program to showcase their safest truck drivers and be part of the groundswell of countrywide celebrations."
TMAF secured significant participation this year for its monthlong annual #ThankATrucker billboard advertising campaign from state trucking associations and companies, totaling 32, the most during any NTDAW timeframe. Impressions from the campaign will total more than 26 million.
Participating associations and companies include the Alabama Trucking Association, Arkansas Trucking Association, Baylor Trucking, CB Wilson Transport, Idaho Trucking Association, Iowa Motor Truck Association, Kentucky Trucking Association, Louisiana Motor Transport Association, Ohio Trucking Association and Preferred Materials.
Billboards are on display along America's interstates and freeways over the next four weeks through Oct. 10 in the following markets: Birmingham, Dothan, Huntsville, Mobile and Montgomery, Alabama; Bryant, Clarksville, Little Rock, Wheatley, Arkansas; Northern Idaho; Indianapolis; Cedar Rapids and Des Moines, Iowa; Bowling Green and Louisville, Kentucky; Alexandria, Lafayette, Monroe, Northshore, Shreveport and Thibodaux, Louisiana; Cincinnati, Cleveland, Columbus, Dayton, Lima and Toledo, Ohio; Portland, Tennessee; Blackstone and Richmond, Virginia.
The billboards feature award-winning drivers with their trucks from their respective state under the creative directions: "Trucking Feeds America," "Trucking Builds America" and "A Driving Force for the U.S. Economy."
Southern Recipe donating to St. Christopher Fund
In Southern Recipe's annual Truck Driver Appreciation Week campaign, the brand will once again shine a light on the truck driving industry and support St. Christopher Truckers Relief Fund (SCF) with a $7,500 donation, plus an additional $5,000 donation from Rudolph Foods going directly to the wellness programs.
Bringing awareness to the truck driving community and Truck Driver Appreciation Week has been a passion of Southern Recipe's for more than a decade. Throughout August and into Truck Driver Appreciation Week, drivers have been encouraged to sign up for free health screenings and services on the St. Christopher Truckers Relief Fund website.
Southern Recipe's Truck Driver Appreciation Week celebration also invites fans to share the "Tune Up Challenge" with their social media communities to build awareness of the wellness programs offered by the St. Christopher Truckers Relief Fund. Every share accounts for an entry for free product from Southern Recipe, and every trucker who signs up for a program on the SCF website is entered to win a free case of pork rinds as well.
"Everything we do, and everything we buy, is touched by a truck driver. Every year, we strive to support drivers as best we can," said Mark Singleton, Vice President of Sales and Marketing at Southern Recipe and Rudolph Foods. "These men and women help fuel our families with food and comfort. We've been celebrating these important road heroes for more than a decade now, with our incredible charity partner, the St. Christopher Truckers Relief Fund."
Motel 6, Denny's offering breakfast meal deal
During Truck Driver Appreciation Week, drivers can get 50% off a breakfast meal at Denny's locations in travel centers thanks to its new partnership with Motel 6.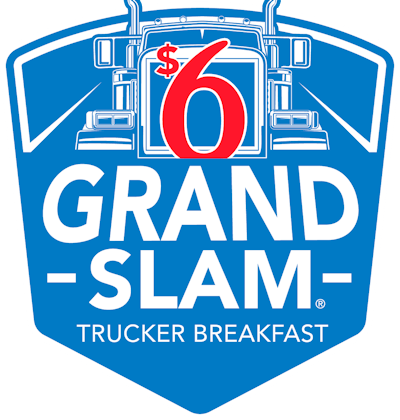 The two iconic brands have teamed up to show appreciation for America's road warriors by launching a first-ever breakfast deal during the month of September.
The Motel $6 Meal Deal Trucker Breakfast offers drivers an Original Grand Slam meal -- including two buttermilk pancakes, two bacon strips, two sausage links and two eggs -- for only $6. The deal is available Sept. 5-Sept. 30 at all 130 Denny's restaurants found in travel centers.
To redeem the offer, truckers can join My6, the free rewards program from Motel 6 and Studio 6, to get a downloadable coupon in the My6 trucker marketplace on the app.
"We are delighted to team up with Denny's, another trusted roadside brand across the United States, to extend our support for our nation's truck drivers," said Julie Arrowsmith, President and Interim CEO of G6 Hospitality. "Both Motel 6 and Denny's are here to ensure all truckers are fueled and ready to hit the road no matter the distance, so, next time they're traveling, they can stop into Denny's and reward themselves for that hard work with a $6 Grand Slam Trucker Breakfast Deal." 
Sheetz offering diesel, DEF discounts
Mid-Atlantic convenience store chain Sheetz is celebrating Truck Driver Appreciation Week by reducing diesel fuel prices by 35 cents a gallon to celebrate the 35th anniversary of Truck Driver Appreciation Week.
The price will be reduced for Sheetz's auto diesel and truck diesel offerings at all of Sheetz's 680+ locations. Additionally, Sheetz will decrease its diesel exhaust fluid (DEF) prices to 99 cents a gallon at the pump. Both price reductions began on Labor Day, Sept. 4, and will end on Sept. 16.
"Truck drivers positively impact the fabric of everyday American life," said Travis Sheetz, President & CEO. "They are truly the backbone of this country and, as a company, we are committed to showing our appreciation. Our hope through this is to provide extended offers that will be beneficial to them and involve the public so we can shine a light on the hard work these drivers do."
Sheetz will further show its appreciation by offering a Sheetz branded trucker hat at its 37 truck diesel locations to any new or current loyalty customers. Sheetz will also offer five different weekly deals in September and into October, redeemable for truck drivers through the Sheetz app:
September 1-7 -- 99 cent energy drink from the cooler with any purchase
September 8-14 -- Free half meatball or turkey sub with any purchase
September 15-21 -- Mix and match any two 20 oz sodas for $2 with any purchase
September 22-30 -- Earn 500 bonus loyalty points with any purchase
October 1-7 -- Purchase any two Powerades for $3
Marquee Insurance giving out free lunches at Georgia scale house
Marquee Insurance Group, along with OTR Solutions, is thanking the millions of professional truck drivers who work every day to deliver America's freight safely and securely to provide for our communities.
"Marquee sees the hard work by those within the trucking industry," said Kyle Richards, President of Marquee Insurance Group. "We are honored to be part of your journey, ensuring that you can continue to move forward, no matter the road ahead."
During this week of appreciation, Marquee and its sister company OTR Solutions are honoring drivers by passing out free lunches Wednesday, Sept. 13, from 11:30 a.m. to 2 p.m. Eastern at the Georgia DOT Weigh Station along 1-20 in Lithia Springs, Georgia. The companies encourage any truckers driving through the area to drive through and say hello.
C.H. Robinson hosting thank-you tour, offering one-time free digital cash advance
Freight brokerage C.H. Robinson is honoring truck drivers' dedication to delivering goods that people rely on.
Timed with Truck Driver Appreciation Week, C.H. Robinson is launching a "Miles of Gratitude" tour and thank-you campaign to celebrate and show appreciation for truck drivers across the nation.
To help spread awareness and honor the critical and demanding work of a truck driver, the "Miles Of Gratitude" tour will launch Sept. 11 in Minnesota and then travel cross-country, stopping at eight different truck stops where Robinson employees will be giving away gift cards and access to one free cash-advance payment to truck drivers.
For every mile traveled, the C.H. Robinson Foundation will donate $10 to the St. Christopher's Truckers Relief Fund, which helps truck drivers in need. Additionally, to encourage others to participate in the national thank-you campaign, Robinson will donate another $10 for every truck driver thank-you note posted on social media with #MilesOfGratitude, up to $50,000 total.
"Truck drivers play such a key role in our industry and our world, and they sacrifice a lot to make it all possible," said Mac Pinkerton, President, North American Surface Transportation at C.H. Robinson. "From endless miles on the road, to nights away from the family – we want to make sure this week especially, they know how much we at C.H. Robinson appreciate all they do."
The tour, featuring one of C.H. Robinson's 2023 Carrier of the Year Award winners, Timmons Transit, will visit truck stops near Minneapolis, Madison, Chicago, Columbus, Atlanta, St. Louis, Kansas City and Dallas, as well as the headquarters of OOIDA.
Truck drivers unable to attend a truck-stop celebration can still enjoy another truck driver appreciation week bonus -- a one-time free digital cash advance payment, making it easier for carriers to get paid instantly. Carriers hauling a load for C.H. Robinson can request up to 60% of payment, with zero fees during the week of Sept. 10- Sept. 16th.