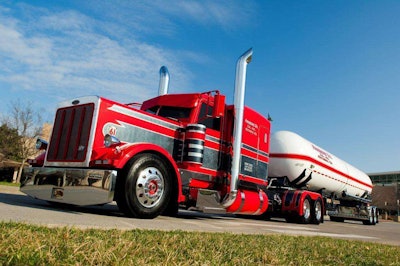 Jeremy Graves is a self-proclaimed dreamer. "Dreaming about trucks takes up a large part of my life," the Kansas-based owner-operator says. When Graves was five he dreamed of owning a tanker truck so he could be like his father and grandfather. But not any truck; he wanted to own one that was like no one else's.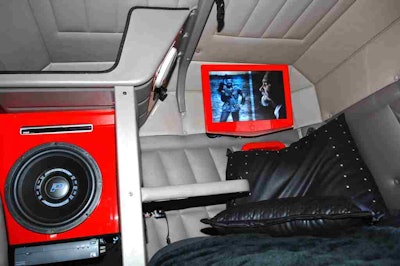 His dream almost came true: his father and grandfather "gave" him his first truck, a 1981 359 Peterbilt. But too young to drive, ownership simply meant keeping it clean and polished.
Over the years Graves' father and grandfather, owner and founder, respectively, of Anthony, Kansas-based Farmer's Oil Company, continued to instill pride of ownership even when he became a real truck owner with the company.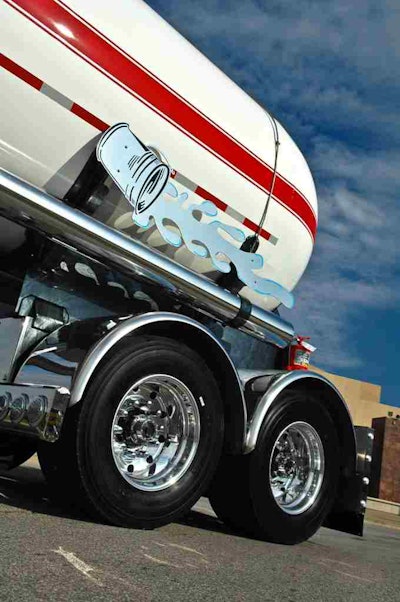 Grave's dream of being the owner of that very special tanker followed him for more than three decades. Then last year, on a trip to Kentucky to look at another truck, Graves' dream materialized in the form of a highly customized 2007 379 Peterbilt Legacy: Keith Everett's "High Call," Limited Mileage Best of Show at the 2007 Overdrive Pride & Polish at the Dallas Great American Trucking Show.
With the opportunity to make a lifelong dream a reality staring him in the face, Graves became its new owner. Now his young son would learn the same lessons he did as a kid.
He got to work right away to make the 379 suit its new name: The Bucket List. He replaced most of the truck's bolts with stainless and electropolished ones. Then it went to First Class Services, a fleet and customizing shop owned by Graves' cousin Randy Stroup, where they added stripes in a sleek silver-and-black marbleized design using PPG paint to achieve a Seminole scheme. "It's the only one I've seen like it," Graves says.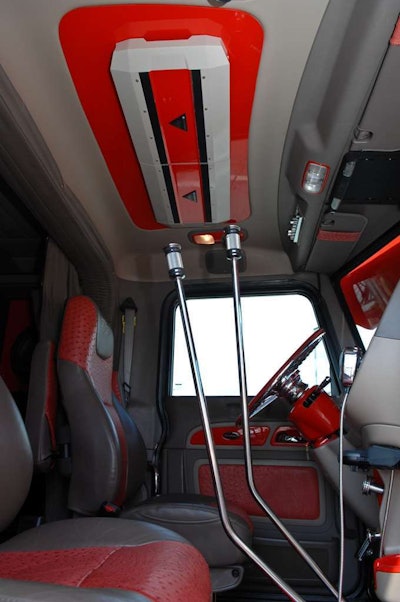 When he's on the road, Graves rocks out to sounds from strong a Blaupunkt audio system, the amps painted red to match the truck and custom-mounted to the cab ceiling and the 10-inch Kenwood subwoofers mounted in the closet area.
Under the hood, The Bucket List's 565hp Cummins ISX, jacked up by a Bully Dog programmer, boasts a marbleized air compressor, alternator, water tank and a chrome steering shaft. Chrome and stainless air-to-air tubes, hood brackets, valve cover turbo exhaust tubing and front shocks add more shine.
Perhaps the most interesting customization on The Bucket List is the electropolish on the stainless hose tubes and bolts. Electropolishing is an innovative electrochemical process that gives metal a lustrous mirror finish and prevents rust by removing a microscopic surface layer. The hose tubes on The Bucket List are so shiny a man could shave his face in them.
Graves got the idea from electropolish shop owner Steve Bellamen, who mainly produces sterile metal products for the food industry. With some prodding Bellamen agreed to do all the bolts and hoses, giving The Bucket List an extra sparkle.
When it isn't at a show, the Pete logs about 150,000 miles per year on the Midwest roads transporting butane, propane, and anhydrous Ammonia.
As for the truck's name, The Bucket List, Graves says the moniker represented a culmination of items he dreams about. "They may not be accomplished today or tomorrow, or even next year. But someday they'll come true." This particular dream took 33 years for him to check off the list.
But the wait was worth it. Every night when Graves gets home from the dispatch office, his young son asks, "Where's my truck?" Though he's just three years old, he knows the truck is his to take care of. "Whenever The Bucket List rolls in he helps me towel it off and shine it up," Graves says.
[Gallery not found]
Spec's:
OWNER: Jeremy Graves, Anthony, Kan.
MODEL: 2007 Peterbilt Legacy
ENGINE: 565hp Cummins ISX
TRANSMISSION: 18-speed Eaton Fuller
INTERIOR MODS: Painted floor and dash, shaved seat bases, Road Dawg steering wheel, ostrich inlay upholstery, billet aluminum/stainless trim and custom pedals; billet shifter plate; granite floor
EXTERIOR MODS: West Wind motorcycle headlights; Dynaflex 10-inch exhaust pipes; flip-up front bumper; Valley Chrome chopped air breathers; smooth cab lights; shaved door handles; Jones Performance front fenders; electric hood; chrome PTO yokes; Capone Custom billet mirror brackets; Valley Chrome bumper; custom tailplate; painted frame, deckplate and belly pan; JJ headlight brackets; Wingmaster boltless visor; etched side windows; Remington tires on Alcoa wheels