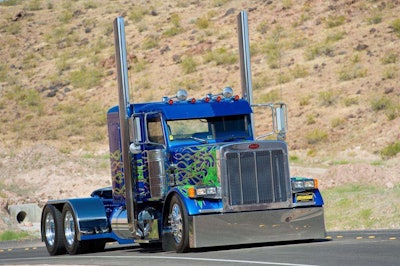 Until last year, says Jeff Botelho, customizing trucks was more a highly advanced hobby than anything else for himself and crew at the Botelho's Custom Trucks shop in Los Banos, Calif.
He runs his family's Botelho Bros. Trucking business and custom shop out of the same facility, from which the shop's unofficial name, Tin Can Customs, comes.
"My shop's kind of like a tin can," say Botelho who has won his share of Custom Rigs Pride & Polish and other truck show awards over the years. "It's definitely no 4 States – it's a small shop with three full-time employees, and most people can't believe we turn the equipment out of the little facility that we do."
Big-Rig Build-Off contenders are among the shop's repertoire, but perhaps the most meaningful piece Botelho and his crew have built is his personal working rig.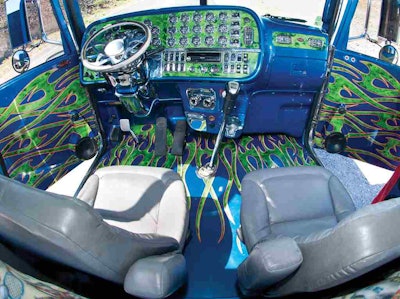 The workhorse 2007 Peterbilt 379 had fewer than 35,000 miles on it when Botelho lost a man he says had been "my business partner and my best friend" for a decade and more – his father, Jim.
"I used to see him in the shop every day," Botelho says. "I was down for three months when he passed. I'd fire my truck up and go in the shop and cry for 20 minutes. One morning I went into the shop and my truck was getting a service – it was a mess at 7:30 a.m., and so was I."
He turned to his shop guys and told them to halt work on it. Then he proceeded to outline to them what he wanted to do.
The next day, the truck's interior was near gutted when Botelho's current business partner, his mother, Alvina, walked in. "She was livid," Botelho says. "The truck was 10 months old with 35,000 miles on it and there I've got it gutted and in pieces – I said, 'Go ahead and tell me I'm stupid like dad did.'"
Botelho describes his father as a quite opinionated truck owner whose idea of a perfect truck was one with a "clean, old-school, simple" design.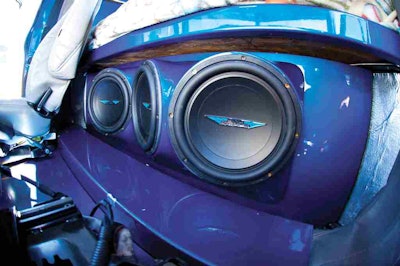 In stark contrast, Botelho's ideas have run counter to that style over the years – his 2006 Big-Rig Build-Off entry was a convertible Class 8 he'd dreamed of building as a child, and in 2010 his entry was a big-rig limo.
Botelho convinced his mother to devote $10,000 to what became his personal project truck, his way of dealing with his father's death.
"You've got 60 days," she told him.
What emerged from the encounter with his mother is a bad-ass, flame-throwing custom rig inspired directly by an emotion that seems somewhat out of sync with the rig's design – grief.
Botelho and his crew – then made up of John Shamoro and Francisco Murrillo, both of whom remain with the shop – built a rear roll-down power window into the 36-inch sleeper and custom-fabricated sheet-metal flooring and door panels.
Then they went to work ovehauling the interior for maximum sound entertainment with the addition of a 2,800-watt Pioneer head unit thumping through 18 Image Dynamics speakers in custom enclosures.
The exterior and interior design scheme is united by unique flame-design vinyl graphics, expertly cut and installed by Botelho's "big brother," also named Jim, four years his senior, and Jim's crew at 100 Proof Ink.
There are very few custom rigs on the road similar to Tin Can Custom's creation called "5150." It's look and custom touches have resulted in a number of wins at competitive events around the country – including second in its class and third for its custom paint and graphics at the 2009 Great West Truck Show Custom RigsPride & Polish in Vegas.
But it's a day-to-day worker more than anything else, says Botelho. It primarily runs locally, pulling a stainless-steel spread-axle reefer or a flatbed.
"It's also set up with a hydraulic equipment trailer" on occasion, says Botelho, to move large equipment for a local towing company. "It's not really set up to do that," he adds, "but it pays good, so I do it."
The truck's low mileage has occasionally caused problems registering at some truck shows, where judges often question which class it should be competing in – working class or the limited-mileage show trucks.
"I have to prove I run it local sometimes," Botelho says. "It's harder on the truck when you're running local. I could work a ten-hour day and put 100 miles on it that put it  into situations with plenty opportunity for nicks, scrapes and bumps for the graphics and custom chrome and stainless accents."
All told, Botelho's happy with the result. The long hours and work he, his crew and some of his trucking company's drivers put into its build was the "perfect therapy" for the grief he felt at his father's death.
As Botelho puts it, the 379 was "my own last little 'Hey, Daddy, look at what I can do.'"
Spec's
Truck Name: 5150
Owner: Jeff Botelho, Los Banos, Calif.
Model: 2007 Peterbilt 379 extended hood
Engine: 475-hp Caterpillar with Performance Diesel tuning to 980 hp
Transmission: Eaton Fuller 18 speed
Exterior mods: Power roll-down rear sleeper window, custom vinyl graphics by 100 Proof Ink, custom stainless bumper, 8-inch Dynaflex stacks, stainless accents the length of the rig by Aranda Truck Accessories
Interior mods: Custom sheet metal floor and door panels, vinyl dash and panel graphics by 100 Proof Ink, 2800-watt Pioneer head unit with satellite radio and iPod plug, 18 Image Dynamics speakers, ranging from 10- to 60-inch mids and numerous tweeters.