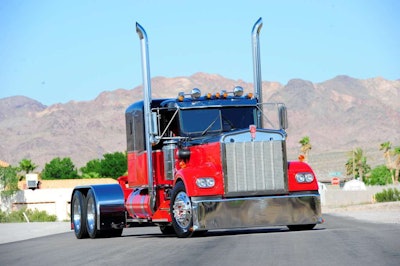 To say Scott Diller will go to extremes to get the look he wants in his show truck is an understatement.
From the time he rescued a 1981 Kenworth W900A that was destined for the junkyard until he rolled it into a Louisville, Ky., competition in 2011, nearly four years passed. Much of that time was spent bending and shaping the 30-year-old rig. The recession slowed things down, too.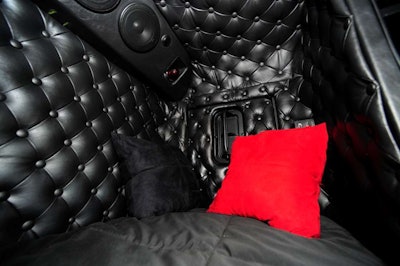 Starting with the truck's cab structure, doors and not much else, the crew at Elizabeth Truck Center in Staten Island, N.Y., took Diller's vision (given an assist by friend and artist Jeff Nolt) and transformed the truck into a 2011 prizewinner. New hood, frame rails, engine and wiring to accommodate today's electronic engine modules were installed.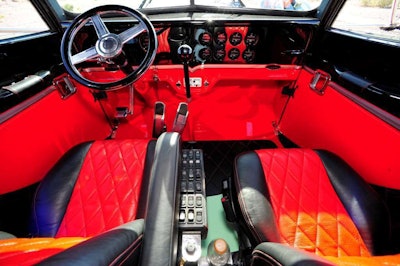 The New York shop customized most of the rest.
"I'm not really a purist but at the same time I wanted a hot rod-themed truck," he says of that vision. "I wanted to have a 1930s or '40s street rod feel to it. I saved a truck from the scrap pile."
But Diller wanted to make changes. He wanted to lengthen the frame rails, exchange the old truck's short hood for a long hood, re-skin all the metal because he didn't want to have rust and corrosion problems from driving on Northeast roads.
"I could buy this truck for a song because it was junk and it had a good title, plus it had the valuable things I wanted without junking it," he explains. "It's a good feeling when you start with nothing and it ends up looking like it does now."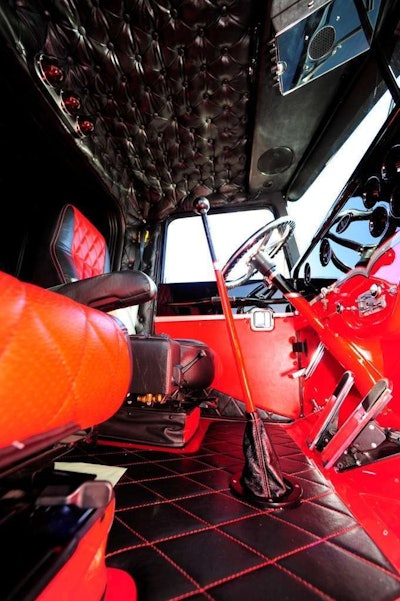 Diller, 28, began dispatching and driving for the family trucking business, Lanita Transport of Mt. Aetna, Pa., in 2000. When his father, Larry, decided to return to driving two years ago, Scott began running the operation, which numbers about 15 company rigs and 20 owner-operator trucks. This move gave him time to monitor the modifications.
At the beginning, Diller told Anthony Pesce of ETC what he wanted and didn't want. "Couple of things I gave him free rein on," Diller says. "For the interior I wanted a street rod look with a metal dash that flowed together with the exterior. I took them a remanufactured Cat motor and they wired it."
Outside, Diller wanted the truck to hug the highway. He got blank frame rails from PG Adams in Vermont and turned them over to the truck shop.
"I wanted it to sit as low as possible, so we mounted the suspension components as high as possible on the frame and the cab components as low as possible," he says. "Compared with a stock W900A, the top of the roof line is 14 in. lower. When all of the air is released from the air-ride, the front bumper is a half-inch off the ground."
Fabricating parts took time, too. Diller says sometimes it took more than one attempt at building a part before getting the look he wanted. "Just my dash took three and a half weeks to build," he says. "This is the fourth one they roughed out."
To get the smooth exterior look Diller wanted, the back panel on the sleeper was glued together with a super strong adhesive instead of rivets. Detail work, such as cutting 3.5 in. out of the stock Kenworth sun visor to allow it to lay closer to the windshield, followed. Where possible, other Kenworth components were used and modified.
At least one and often many more ETC employees worked on Diller's masterpiece during its four-year stay at the shop. Diller explains that the truck was "built in the rough," with everything assembled to make sure all components fit precisely. Then the truck was taken apart and the parts painted.
Diller had dabbled in show trucks – fancy paint job and modified exhaust stacks –a couple of times previously, but nothing like this. Now that he has the truck he likes, he doesn't expect to show it nearly as often in 2012 as he did last year, toting the rig to more than 10 shows, including several in the Pride & Polish circuit.
"I went off the deep end with this I guess," Diller says.
Spec's:
Truck: 1981 Kenworth W900A
Engine: 550-hp Cat
Transmission: 13-speed
Wheelbase: 299 inch
Wheels: 24.5; Michelin 285/75R24.5 tires
Exterior mods: Dynaflex stacks, Valley Chrome front bumper, 12 Gauge front end air-ride kits, PDI-tuned engine, extended Trux rear fenders, Kenworth grille bars
Interior mods: Customized metal dash, door panels, headliner; upholstery and metal floor; moved truck and trailer switches to metal box between driver and passenger seats; TelTek digital gauges