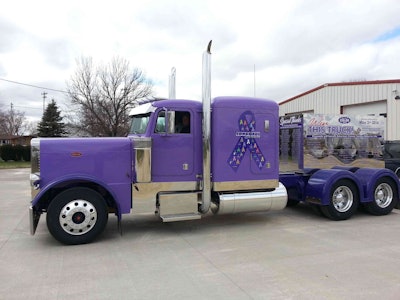 Michael Heiderscheit is not a trucker in any literal sense of the word, but he's the son-in-law of Iowa-based Eldon Jaeger, owner-operator of Eldon Jaeger Trucking and the lead man behind the sweet Pete pictured above, Longhaul Survivor. Heiderscheit's connection to it is twofold. For one, he's been intimately involved in the build, conducted at Jaeger's place of business over the course of five months beginning in December 2012.
Secondly, Heiderscheit's wife and Jaeger's daughter, Brenda, is the rig's primary inspiration. She lost her battle with cancer "more than two years ago now," says Heiderscheit. The 2000 Peterbilt 379 will be raffled off over the course of a year, with ticket sales beginning tomorrow at the second annual Midwest Pride in Your Ride truck show at the Tri-State Raceway drag track in Earlville, Iowa. Raffle ticket ($10) sales proceeds will benefit the American Cancer Society's Relay for Life. (For potential online ticket buyers, fyi: Heiderscheit says plans are to open up sales at the Midwest show's website after the truck's debut.)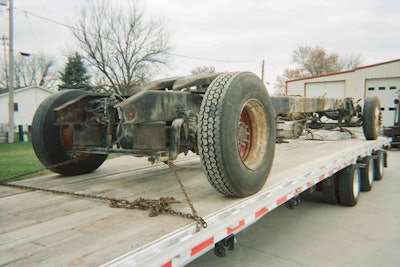 Heiderscheit says the rig was purchased for the project initially had a great deal of body damage. "A lot of hood damage," particularly, he says. The entire body was refabbed from other parts, including the use of "two different bunks," Heiderscheit says, to build the flat-top you see in the picture above. Builders "took a stand-up bunk and took the roof cap off of a flattop to make the top."
Too many suppliers to name (see a full list here) donated accessories to trim up the workhorse, powered by a Cat C15 and 13-speed transmission.
"I was up at the shop when I called you," Heiderscheit told me yesterday. Jaeger and crew were still putting the finishing touches on the rig's dash panels and other interior work to get it done for the big debut May 3.
Find more about the Midwest Pride in Your Ride show, May 3-4, here.
Find more photos of the project in progress here.
The plan is to make a plethora of truck shows over the course of the next year and draw for a lucky winner of the Pete at the Midwest event next year. Following find the tentative schedule of events. For updates, keep an eye on this page.
Midwest Pride In Your Ride – Earlville, Iowa, May 3-4
ATHS Northwest Illinois Chapter Sam Maggio Classic Truck Show – Rockford, Ill., May 11
Joplin 44 Petro Truckers Jamboree – Joplin, Mo., May 17-18
Clinton's Route 66 Festival – Clinton, Okla., May 24-25
Wheel Jam – Huron, S.D., May 31-June 2
Dubuque Kennedy Mall – Dubuque, Iowa, June 2
Cornpatch Dual Wheel Classic – Hubbard, Iowa, June 7-9
IMTA Show Prairie Meadows Altoona — Iowa, June 13-14
Vintage Truck Expo – Baraboo, Wis., June 22
ATHS SE Iowa Chapter – Ottumwa, Iowa, June 29
Cascade 4th of July Parade – Cascade, Iowa
Colesburg 4th of July Parade – Colesburg, Iowa
Delawre Fair Parade – Manchester, Iowa, July 8
Truckers Jamboree – Walcott, Iowa, July 11-13
Delhi Days – Delhi, Iowa, July 27
Hiawathaland Chapter truck show at Nuss Mack — Rochester, Minn., July 27
Waupun Truck-n-Show – Waupun, Wis., Aug. 9-10
Big Horse Power & Pride – Lansing, Iowa, Aug 11
Big Iron Classic – Kasson, Minn., Sept. 6-7
ATHS Southern Wisconsin – Richland Center, Wis., Oct 4-5