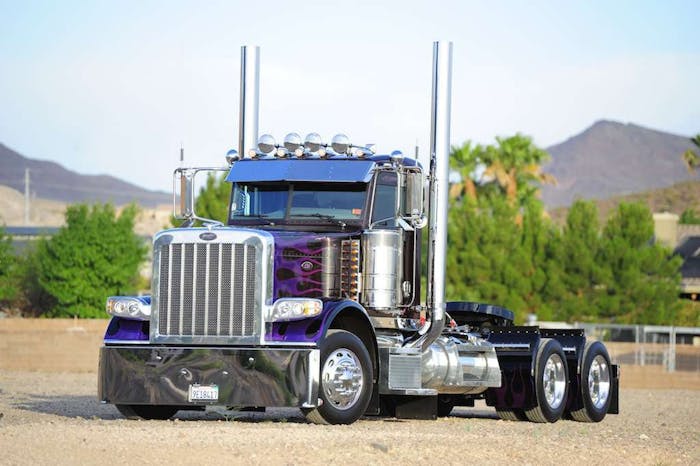 "Old school," says John Gonzales of he and his longtime colleague and boss Frank Gomez's mindset about trucking and spending money on custom trucks.
He says it both in reference to the outcome of the purple and black, flamed and chromed rig he built at the duo's Yamko Truck Lines (of which Gomez owns and Gonzales is fleet manager) and to the beginnings the two had, when a custom truck was a luxury that seemed too extravagant.
"A lot of money was a lot of money," Gonzales says of the decades the two spent as drivers, "and trucks are made to work."
The 2009 Peterbilt 388 here, No. 136 as it's known to the shipping container hauler based in Long Beach, Calif., is one of two that Gomez used to lure Gonzales from working the Long Beach port to Yamko in 2007.
"We sat down and he said 'Come on. I'm buying these two new trucks,'" Gonzales says. "I had the option to drive a brand new one, so I decided to go with him," and he worked his way to from driver to fleet manager during the last few years.
They spec'd the trucks with the black cherry paint jobs and lots of aluminum, Gonzales says, and they picked them up in November 2008. As perennial visitors of the Great West Truck Show in Las Vegas, Gonzales and his crew decided to enter the their new trucks into the GWTS Pride & Polish in June of the next year.
"So we dressed it up, did a few things here and there," Gonzales says, and Dynaflex reached out to sponsor their efforts, wanting to build pipes and do some sampling on an engine with more modern emissions technology.
"They helped us do the straight stacks and stuff," he says. "And about three or four months before June, we did a little bit of [aftermarket] stuff, but there was still a mix of stock parts. So we decided we would see the trucks in Vegas and get some more ideas."
From there, Gonzales says, it's been nearly a never-ending process, as the shop has continued to add, tweak and upgrade. Much of the work was done in the Yamko yard, where Gonzales says they have plenty of covered space and a big high-bay.
Dynaflex has continued to sponsor the work since starting the partnership in 2009, and local Harbor Truck Supply supplied much of the chrome and helped track down any custom parts Gonzales wanted to use. He sought the services of a metal shop in Montebello, Calif., to craft any one-off aluminum or stainless parts he designed.
He also struck up a friendship with Carl Carstens, owner of Rockwood Products, and had the company install a custom wood floor, shift handle and dash.
What eventually rolled into the Great West Truck Show Pride & Polish in 2011 was an award-winning combination of Gonzales' self-declared old school mentality and modern touches to compete with the best.