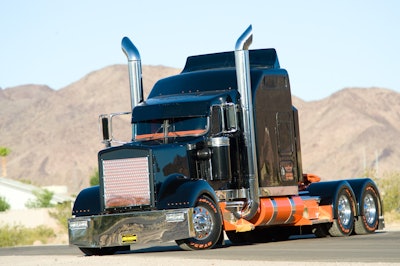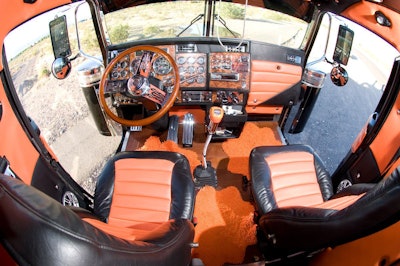 Boots Chivington's son Cub had a wild imagination, and he never hesitated to pencil out any ideas it bred. Cub fancied the atypical, and he was "always drawing up wild stuff – ideas for trucks he liked, things he wanted to do to one," Chivington says.
When the Vernal, Utah,  resident started assembling the pieces of what would later become an award-winning, big black KW W900L, he knew what he wanted to reference.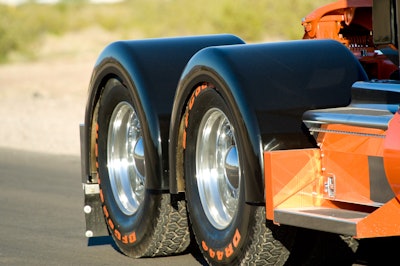 "A lot of it came from those drawings," he says. "I remembered some of the stuff he drew up. His ideas just offered a little inspiration for things here and there. And sort of the whole project in general, since it's something he was always wanting to do."
However, Chivington's intentions when bought the truck in 2005 weren't to rebuild it: He wanted the truck to be a step toward retiring from hauling oil field equipment – a truck he could use to take trips with his wife and pick up loads here and there.
"When I got too old to pull a winch line, I'd have a nice truck that was paid for. And I could just kind of go drive around and get paid for it and have fun," he says.
After what Chivington refers to as a "whirlwind type deal," however, came the Pitch Black Centari and Skittles Orange creation built mostly in the shop at Chivington's home in Vernal, Utah.
He subtly dressed the truck with testaments to his hauling work in oil fields, but added a few touches to make the truck a more meaningful tribute than a simple dedication to his trade – the truck's inherent build was to stand in memory of his son.
***
On Christmas day in 2006, Chivington's wife Ruth Ann (whom he calls Nelly) gave her husband a set of 10-inch stacks for their then stock 2000 KW. After a trip to the shop for a quick mount to see how they looked, Boots noticed a bit of a problem: the stacks blocked his doors from opening.
"You can't just give back a Christmas present," he says. "So I decided to suicide the doors. That's sort of where the whole thing started. It was a slippery slope."
Weeks later, the project was still lying in pieces around his shop, Chivington says, but he knew of two friends that might be able to help. "I knew I had to do something," he says. "It couldn't just sit there. So I boxed the whole thing up and headed east."
Chivington drove the truck and its unfinished pieces to Homer, Neb., where friends Leroy McRoberts and Charlie Rogers own a small customizing shop called Bad Boy Customs.
When the truck returned, he applied the finishing touches in his shop and had the truck painted Pitch Black Centari accented by Skittles Orange.
Some of the work he outsourced, like paint and the leather upholstery on the interior, but the rest of it, Chivington says, has the at-home touch. "I just kept working until I got it down to where there weren't so many pieces laying around. Then I just kept at it until I got it done."
Though he and his wife are still making rounds showing the truck, he says they still plan to get away together during their semi-retired years. "It's got two beds for Nelly and I," he says. "When I quit showing it and start running it, we'll just have some fun with it. And I won't have to shine on the damn thing 30 hours straight."
***
"All Cub ever wanted to be was a rigger," Chivington says. And in 2004, that's what he became. Cub bought his own truck and followed his father's suit, hauling oil field equipment.
He dubbed himself the Old Rigger – something he made known on his phone's voice mailbox recording. "He'd say 'This is the Old Rigger, call me back.' Then he'd honk the horn a few times," says Chivington.
Just a few months after he started, Cub died in a truck accident hauling equipment around a curve near the oil fields. "It was just a freak accident," Chivington says. "He'd been around that road 200 times or more. It's just one of those deals."
Remembrances of Cub Chivington make more than one appearance on the Kenworth – one being the memorial banner and nametag on the back of the truck's cab.
The other is a smaller, but more symbolic tribute. On the truck's radiator fan, Chivington had Barbara Luck, a local Vernal airbrush artist, paint a small portrait of Cub on the blades. "He's leading the way, everywhere we go," Chivington says.
The truck nearly serves as a perfect union between two things Cub had always dreamt about, Chivington says: being an old rigger and creating a custom truck.
"I know he would have enjoyed the heck out of this truck," Chivington says. "I miss him every day. He was standing straight on top of the world looking down. His death was a bad deal, but that's just the way it is. It was just his time."