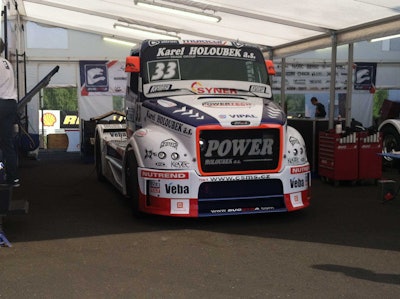 As part of the trip to Hamburg, Germany, with Shell Rotella — focused on low-viscosity oil (click here to for coverage) — we were able to catch an FIA European truck racing warm-up day at the Autodrom speedway in the Czech Republic outside Prague.
The trucks were preparing for the FIA Championships that will be held Saturday. Represented in the circuit are major European truck brands Mercedes, Man and Iveco — all cabovers — and some Freightliner-styled conventionals.
Check out the video below to see the trucks in action, topping out today at about 100 mph. Video from a ride-along for a few laps in one of the trucks will be posted later. Drop a comment below to let us know what you think.
[youtube GDlZx8XvjzE nolink]