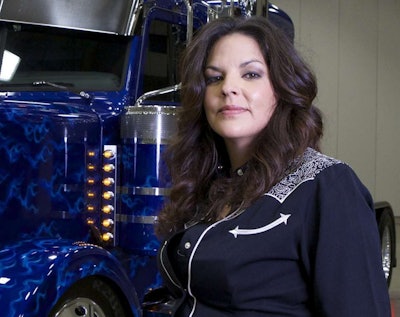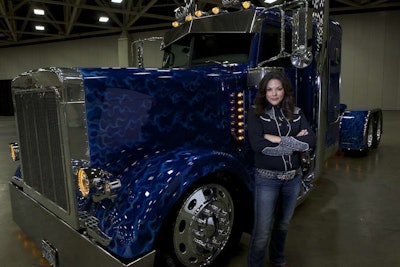 Teresa Danielson of Sandy Bay Ojibway First Nation in Manitoba, Canada, was browsing Facebook when she spotted an Overdrive call for truckers to model in front of show trucks at The Great American Trucking Show in Dallas. The 36-year-old single mother of three was coaxed into applying by her coworkers at Birch Mountain Enterprises in Northern Alberta, Canada.
Danielson hauls water to the Jackpine Mine in the oil sands and says she was nervous about applying. "I've been in the trucking industry for five years and can only dream about being around such beautiful show trucks," she says.
Her employers, Chris and Lee Wilson and Ivan Boucher, along with owner-operator Wayne Kitchur, sponsored her trip to Dallas.
As the show closed, she was treated to a professional hair and makeup session before the photo shoot, in which she posed with Jerad Wittwer's '06 Peterbilt 379, Show Me the Money.
"I had so much fun and loved the outfit they brought and how different I looked after the makeover," Danielson says. And she enjoyed discussing both the challenges and rewards of being a female driver with Cindi Holland, another driver on hand for the photo shoot. "It's a long winding road with many hurdles and obstacles," she says, "But I am just going to keep on trucking."
Here are a few more photos from Teresa's shoot: