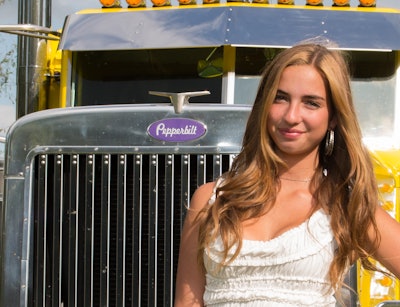 "Good enough to eat," said Ronnie King's wife about Ripe & Ready, this 1994 Peterbilt 379 – pictured with model Shelby – after he laid on the bright yellow paint. King, a Jamestown, Tenn.-based independent who hauls tomatoes, wrecked trucks and more, found the unit in a junkyard in 2004.
He stretched the frame to 290 inches and built the truck back up. Talladega fiberglass fenders now cover the drives and, for a unique touch, he covered the front fenders and trim on the rears with "chameleon" paint, as he calls it. Depending on the viewing angle, the paint morphs from purple to raspberry and shades in between.
King won awards in the 2010 and 2012 editions of the Custom Rigs Pride & Polish competition at the 75 Chrome Shop in Wildwood, Fla.
Here's what was done in the October issue with King's truck: