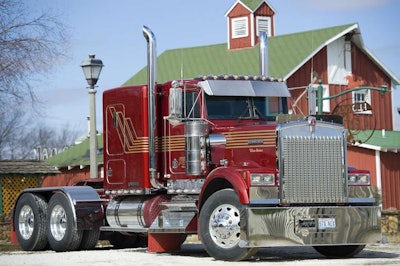 Gailand "G-Man" Johnston's decision to do a full custom restoration of this 1986 Kenworth W900 was like paying respect to an old friend.
"This old truck had a little sentimental value," says Johnston, owner of Johnston Trucking, which is leased to Quality Carriers and makes its living hauling fuel locally around its Lamar, Mo., headquarters. "It was the first new one I'd bought for myself to drive."
The W900 earned its moniker, Ol' Red, as the oldest tractor in his formerly 15-truck fleet. Johnston says he "just kind of always kept [the truck] around" as he traded rigs to keep the small fleet running. During the last two years, he's sold off the other 14 trucks, paring the business down to just Ol' Red.
From a style standpoint, staying true to the W9's workhorse origins defines Ol' Red. New wood floors and door panels and low-back Bostrom Wide Ride seats provide a contemporary backdrop to offset the old-school dash, well-preserved after decades of TLC.
As Johnston puts it: "It always pains me to see somebody take an old classic truck and butcher it."