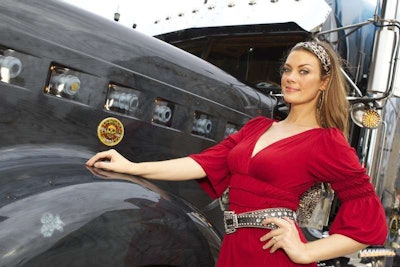 Maggie Parks, voted by D Magazine's readers as one of the "10 Most Beautiful Women in Dallas," dressed in pirate attire to pose in front of Bob and Shelley Brinker's 2000 Freightliner Classic XL – Legend of the Black Pearl. The photo shoot was done in downtown Dallas near the Dallas Convention Center while the Great American Trucking Show was in full swing.
Brinker's rig is a staple on the truck show circuit, and the pirate-themed graphics are based on the "Pirates of the Caribbean" film series. The custom graphic design includes a mural on the hood featuring the fictional Jack Sparrow and a likeness of the Brinkers' late daughter, Amy McKnight, portrayed in pirate attire.
Parks, a mother of two, says she loved posing with the big rig, a first in her modeling career, and was amazed by the truck's details and lights.
Here are a few highlights from the shoot with Maggie and the Brinker's truck:
[youtube ukqigAaQVic nolink]