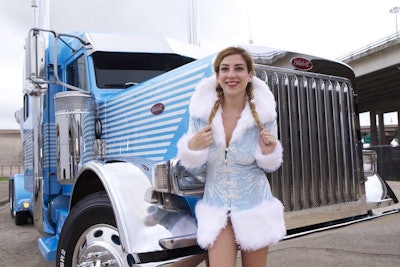 It was beginning to feel a bit like Christmas when Dallas-based model Ally, wearing a fur-trimmed snowflake outfit, posed in front of show truck Deja Blue.
Owner Bill Hall Jr. says he got a kick out of seeing truckers do a double take during the holiday-themed photo shoot after the 2012 Great American Trucking Show in August. His custom-built 2005 Peterbilt 379's successful debut at Overdrive's Pride & Polish show earned him a first-place trophy in Working Combo.
The newest show truck addition to his 138-truck fleet is painted its signature blue – dubbed "nightmare blue" – with 12 white stripes and a custom kick plate, 8-inch Dynaflex stacks, 22-inch Valley Chrome front and rear bumpers and more than 400 custom lights. The classic-retro look fits with Hall's two other winning show trucks, El Patron and True Blue.
Here are the highlights from the photo shoot with Ally and Hall's truck: