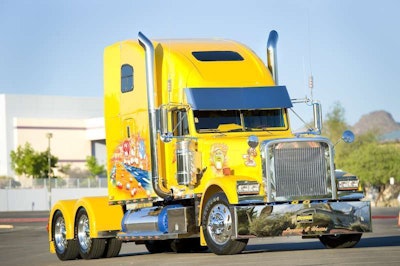 Mike Most is a self-proclaimed Freightliner man, having driven one for years, but he never had seen a Freightliner compete in a truck show and win. So in 2006, he decided to amend his bystander-seen Freightliner track record. "I wanted to slowly but surely show that a Freightliner Classic could compete with Peterbilt and Kenworth trucks and win Best of Show," says Most, who feels that after seven Best of Show awards, "I think we've kind of proved the point."
The Phoenix resident bought the 1999 Classic – his first truck – in 1998, and he used it as a cornerstone to build what is now a 60-truck fleet that hauls tropical fish nationwide for PetSmart.
When the Classic needed a new paint job in 2006, Most seized the opportunity. He coated the truck with Millennium Yellow, which he'd seen on a friend's Corvette. The next year, Most added some chrome stainless and WTI fenders, pulled the engine and painted it to match, pulled and fabricated the stainless-steel boxes and changed the engine looms to match one another. He also had the entire drivetrain and suspension painted yellow.
Next, Most says, the truck's calling card was added. Spun from ideas from Most, his children and the truck's driver, Nick Mitchell, the Classic's cartoon paintings and namesake theme, Legends & Heroes, was born and implemented with detailed murals throughout the entire truck.
Here's a full gallery of Most's truck: