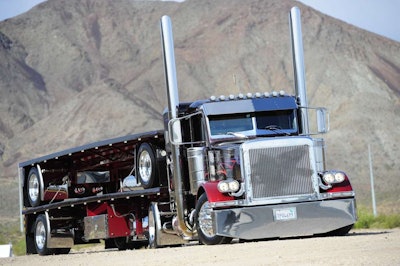 Ryan Hooten ran his black cherry '95 Peterbilt 379 until it was struggling for breath. Bearing down on the 1.5-million mile mark in late 2007, "It was getting pretty tired," he says of the rig, which he had picked up just shy of 10 years earlier from a seller in Utah.
See a full gallery of Hooten's truck below.
Hooten had put nearly a million on it himself, hauling hay and grain for his own Ryan's Feed and Trucking, a Santa Ynez, Calif.-based four-truck fleet that he started as a spur off of his father's ranch operation.
"I thought I had to rebuild the motor," Hooten says, and he had given serious consideration to starting fresh and ordering a new truck. But the new Petes didn't quite fit his fancy, "and instead of buying new," he says, "I just pulled this one apart."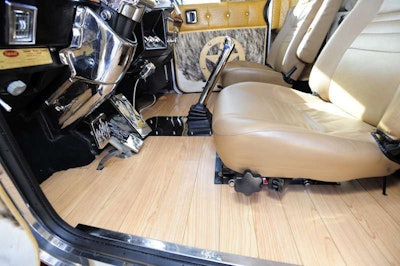 When the truck came back together, it still donned its black cherry—"Everyone you see every day knows that's your truck," Hooten explains. "I didn't want to change the color too drastically"— but that's about all he left original of the original.
Among much else, he converted the truck's cab to a Unibilt, replaced the original '95 Cat C-15 with a C-16, rebuilt the truck's rear ends, put in a new transmission, installed an air-ride front-end system, shaved the door handles and cut a hole for and mounted a window in the back of the sleeper.
He also completely gutted the truck's interior and, with the help of his wife, turned it into an ode to the West. The ranch-style leather upholstery and cowhide trimmings make it a downsized version of the couple's home decor.
"We have horses and ropes and all that good stuff, and it's just the way she decorates the house," Hooten says. "That's where most of that came from—just the home and some horse trailers that have living quarters."
The cab and sleeper have hide and leather covering their walls and panels, branding iron curtain rods, cowhide curtains secured with belt buckles and leather straps and lone star-style buttons.
The aftermarket pedals also have cowhide fashioned into their flamed imprints.
Hooten says the work took about eight months, during which he, "just tinkered around here at home, got a bunch of stuff done and then took it over to Bakersfield, [Calif.]" where he had a paint and body shop apply new paint on the truck's exterior and its other pieces.
The shop tore everything apart, "100 percent apart," says Hooten, and installed new panels and re-riveted the truck's hood. Hooten requested red fenders and trim and had a local shop apply the pinstripes and logos.
The at-home rebuild cost about half as much as buying new, at the time, Hooten says, and he didn't want to part with his old Pete.
Even though he's stocked the shelves of his fleet with late-model tractors for his other drivers, "I just liked the old school look better," he says, and it's served him well on the road at on the show circuit, where he perennially contends in his class and overall at Pride & Polish events in Las Vegas and Dallas.
"Knock on wood, I always managed to win something at the shows I went to, but every show you learn something new," he says.