The big rigs were lined up 3-wide just outside the Kansas Speedway, and they were every bit as colorful and impressive as the NASCAR cars and trucks that race on the adjacent track – and much more practical. Appropriately, a hard-working grain hauler took home the President's Choice award at the Heart of America Trucking Show's Beauty Contest last weekend.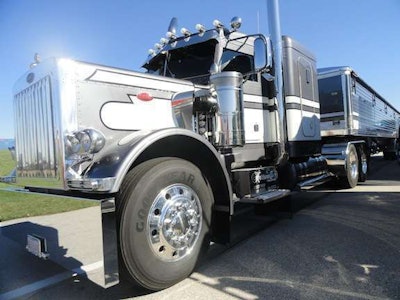 Victor Holthaus of Axtell, Kan., an owner-op who's put more than 4 million miles on his '78 Pete 359, was recognized by Owner-Operator Independent Drivers Association President Jim Johnston. The show was part of OOIDA's 40th anniversary celebration.
Other top prize winners were
Best of Show – Working Bobtail: Scott Rud, Byron, Minn., for his 2000 silver and red Peterbilt 379.
Best of Show – Working Combo: Jerry Mies/Mies and Sons Trucking, Colwich, Kan., for "Lactose Limousine," a 2013 teal and white Peterbilt 389.
People's Choice: Howard and Cindi Bohn, Odessa, Mo., for "Tahitian Treat," a 2013 Tahitian green International Lonestar.