This profile is part of a two-week series in which Overdrive will be publishing stories about the four Pride & Polish National Championship winners — crowned in August at The Great American Trucking Show — and the four best of show winners from the event.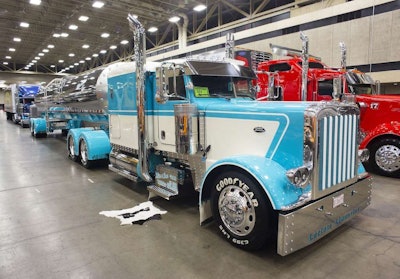 When Jerry Mies decided to stay in the dairy business instead of working as an artist for Hallmark, he didn't know if he would create again. His creative past, however, still serves him, as he now designs paint schemes for his trucks, including the pearl stripes for his "Lactose Limousine", a milk hauler that won Best of Show, Working Combo.
The team pulled together a vintage theme while highlighting the dairy business for the 2013 Peterbilt 389, which was built from a glider kit. Custom hardwood floors and a 1950s-style paint job showcase a classic look, while a cowhide interior – still in progress – displays a passion for dairy.
"I've done the cow thing all my life," Mies says. "I went from milking cows to hauling milk." He started with one truck in 1993, and the family-owned business has grown from there. Three full-time mechanics were essential to building the Lactose Limousine, Mies says.
– Tara Bullock
[youtube iPHlk6TS7IY nolink]