This profile is part of a two-week series in which Overdrive will be publishing stories about the four Pride & Polish National Championship winners — crowned in August at The Great American Trucking Show — and the four best of show winners from the event.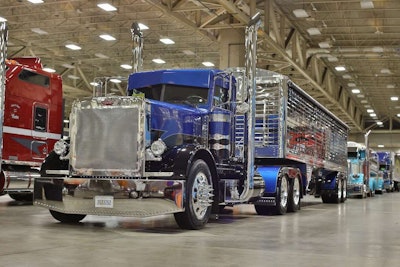 For the folks at Davis Bros. in Owensville, Ind., music and trucking are a natural duo, and they always name their trucks after song titles. Finding a name for their 2005 Peterbilt 379, however, was a struggle.
Their secretary scrolled through a list of songs to find a suitable name. When she came across "Super Freak" – Rick James' 1982 hit – everyone burst into laughter.
"That's got to be it," says Brian Davis, owner of the Best of Show, Limited-Mileage Combo winner.
Davis plays rhythm guitar and sings in Hard Sunday, a pop-rock band, but the group took the summer off to focus on other activities, including truck shows.
This year was the company's first trip to GATS. "I decided if we were going to do it, we were going to do it right."
All customizations, except completion of the paint job, were done in the company's shop. Davis says that while there's nothing wrong with getting a custom shop to work on a truck, there's something special about doing it at your own place.
"I take pride in the fact we've done it ourselves," he says.
– Tara Bullock