This profile is part of a two-week series in which Overdrive will be publishing stories about the four Pride & Polish National Championship winners — crowned in August at The Great American Trucking Show — and the four best of show winners from the event.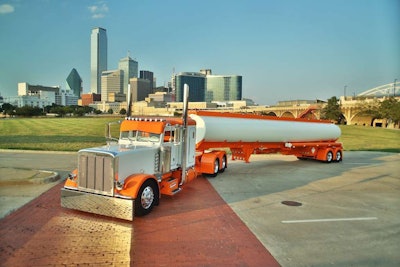 Three years ago, after 15 years of trucking – 13 of those spent hauling gas – Bill Rethwisch decided to start showing trucks. It's paid off in more ways than one.
"The recognition the truck has been getting my company alone is worth the cost," says Rethwisch, who made his entrance into the Pride & Polish circuit at this year's Fitzgerald event in Crossville, Tenn. He showed a 2012 Peterbilt 389 and matching Polar Tanker named Dreamsicle, with orange and white coloring reminiscent of a dessert treat.
He won Best of Show, Working Combo, in Crossville to qualify for the National Championship round of judging in Dallas. He continued his winning ways in Dallas, as the 39-year-old resident of Toma, Wis., and his Dreamsicle left with the trophy.
"We stripped it down and sandblasted the frame right down to nothing," Rethwisch says. "Completely rebuilt the thing from the ground up, truck and trailer both."
Modifications include a custom interior colored orange and white to match the outside, custom deck plates and toolboxes, fenders and more than 250 lights on both the truck and trailer.
"I just got the idea from in my head and watching other trucks over the years," he says.
– Sean Randall
[youtube 1jE7Mqx28Vs nolink]