The River States Customz shop in La Crosse, Wis., attached to the Freightliner dealer, sent out this linked pdf press release yesterday highlighting a couple of the custom rigs that passed through their shop's bays before showing large in Overdrive's Pride & Polish series this year. Both modified 389s, the two were national champions in their respective categories, Bill Rethwisch's Dreamsicle 2012 fuel hauler (Working Combo) and Vinnie Diorio's 2013 curtainside unit (Limited Mileage Combo).
Find more about each of the small fleet owners via those links, and see below for my interview with Rethwisch at the Crossville, Tenn., Pride & Polish event that secured his place as a national championship contender in Dallas.
River States will host a Pride & Polish event in June next year, part of the round of events leading into the August National Championship in Dallas. It will take place at their La Crosse, Wis., facility on Friday June 27 and Saturday June 28, 2014.
[youtube 1jE7Mqx28Vs nolink]
Fuel-mileage shingle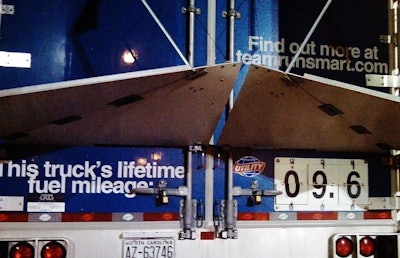 How's this signpost, a shingle hung out to passing motorists and others on the back of former Overdrive Trucker of the Year Henry's Albert's aero-outfitted van trailer?
Albert's in Nashville for the National Association of Small Trucking Companies' annual conference and show, starting today at the Sheraton downtown, and I caught up with him at the TA downtown Tuesday night. Find our most recent reporting on Albert in this story rounding up Jack Robert's run with him between Tuscaloosa, Ala., and Dallas this past August.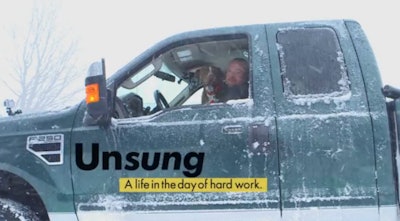 Rotella's 'Unsung' vid series
The folks at Shell Rotella have put together a series of video documentaries I mentioned back this time last year called the "Unsung" series, recognizing oft-overlooked heroes doing hard work. One of five vids is embedded below, a look at Myles Anderson's logging operation in Northern California. You can check out all of the vids via YouTube.com/rotellaunsung.
[youtube gmNDwAM39SM nolink]