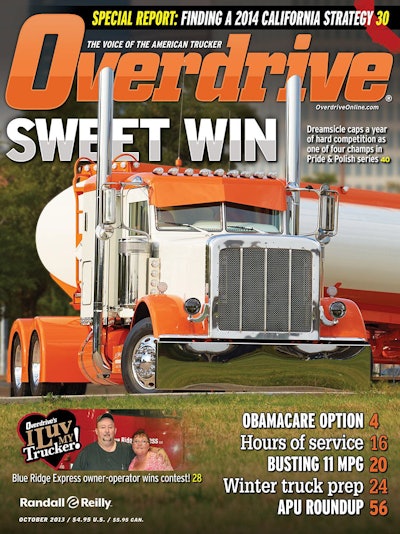 It's been quite a while since we've gotten as many kudos as we have for this month's cover, featuring small fleet owner-operator Bill Rethwisch's Dreamsicle 2012 389, national champion in Overdrive's Pride & Polish series in the Working Combo class. Following find just a few of the accolades centered around the rig itself:
Jill Lenz: Totally sweet! Way to go Bill Rethwisch — you should be very proud!!
Paul Trochinski: Flawless!
Ryan Watters: Umm, when's the autograph session?
Tyler Elson: I see this bad boy just about every day on 151 in Wisconsin!
Brian M. Davis: Wish he'd been in my class.
The Wisconsin-based fuel hauler also won his class at the Pride & Polish event at Fitzgerald's in Crossville, Tenn., in June this year. Take a brief video tour through his work on the rig below. Catch most of the rest of the Pride & Polish winners from GATS and in the national championship via the list below the vid.
[youtube 1jE7Mqx28Vs nolink]
Related:
**2013 National Champion, Limited-Mileage Combo: Vinnie Diorio's '13 Pete 389
**2013 National Champion, Working Bobtail: Josh Skidmore's '07 Pete 379
**2013 National Champion, Limited-Mileage Bobtail: Jerad Wittwer's '01 Peterbilt 379
**2013 GATS Best of Show, Limited-Mileage Combo: Brian Davis' 2005 Pete 379
**2013 GATS Best of Show, Working Combo: Jerry Mies' 2013 Peterbilt 389
**2013 GATS Best of Show, Limited-Mileage Bobtail: Shawn Gibson's 2013 Pete 389