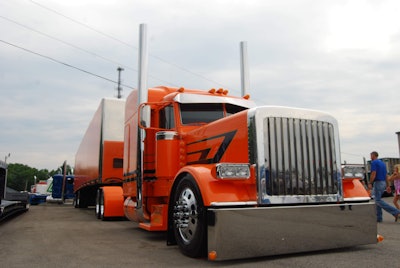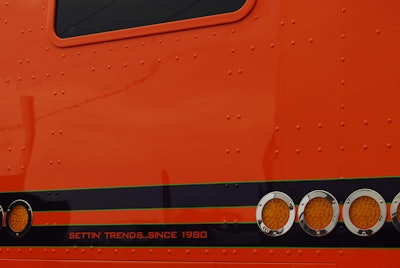 Fresh off a win in the "Show Truck" class at SuperRigs in Tomah, Wis., last week is this "Trend Settin'" immaculate custom 2013 Peterbilt 389 from Vinnie Diorio of Rollin' Transport, based in Wisconsin. It's showing at Fitzgerald's in Crossville, Tenn., through tomorrow in this the latest addition to Overdrive's Pride & Polish series. It's not the only winner from SuperRigs on hand — Jonathan Eilen's Best of Show winning Pete is likewise here, as is runner-up to that truck, says seven-truck fuel-hauling small fleet owner-operator Bill Rethwisch. His own 2012 389 and matching Polar tanker is something to see, particularly if you take a look in the cab, which Rethwisch recently made the jump and gutted, then installing sound-dampening Dynamat on most surfaces, upgrading the stereo system in a big way with Focal sound equipment put in by Flynn Brothers Customz in Winsconsin, among many other additions. We'll share more about his rig later in a video shot on-site. For now, enjoy the pictures in the gallery below.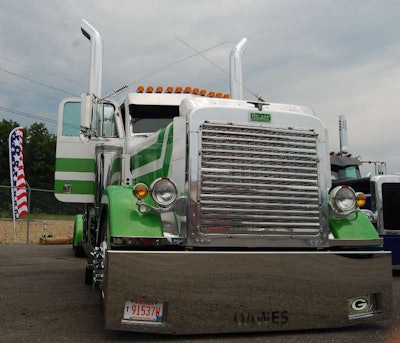 Also on hand from Wisconsin are father and son owner-operators of Dawe's Contract Carriage, Morry Dawes with his 2001 Kenworth W900 and Great Dane reefer, son Joel with a bobtail 1988 Peterbilt 379 with a truly awesome stripe package. If the emblem on the back of the sleeper is any indication, it was likely laid on by River States Customz in La Crosse, Wis., who it so happens also does all the paint work for Rethwisch's small fleet. Find plenty of eye candy in the gallery of the Dawes' trucks below.
[imagebrowser id=64]
How about that logo? Morry Dawes says it's a crowd-pleaser going down the highway, particularly for the 5-ft. and under set.