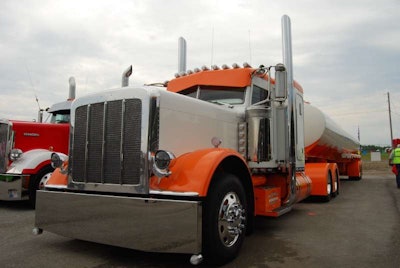 Wisconsin-based operators loomed large at Fitzgerald Glider Kits' sales and service location in Crossville, Tenn., June 29, site of the awards ceremony for the latest addition to Overdrive's Pride & Polish National Championship Series of truck-beauty competitions. All four Best of Show winners, including Wis.-based small fleet owners Bill Rethwisch and Vinnie Diorio in the Working and Limited Mileage combo classes, will advance to The Great American Trucking Show in Dallas this August for a chance at the top national bragging rights on the show circuit.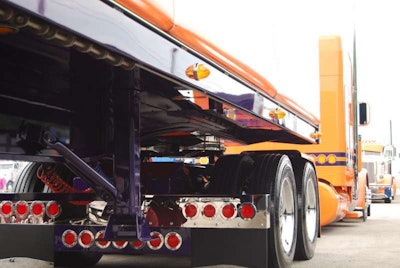 It was only the second showing for Richfield, Wis.-based Diorio's 2013 Peterbilt 389, "Trend Settin'," the first being just a week prior at the Rotella SuperRigs event, where the truck bagged a first in its class. Here he showed it with matching 2008 Mac curtainside trailer, the rear curtain emblazoned with the "Often imitated, never duplicated" legend.
Bringing in the second Best of Show in a row in Overdrive's Pride & Polish series in the Limited Mileage Bobtail category was the "Family Buziness" 2001 Peterbilt 379 of Todd Roccapriore and Jerad Wittwer of St. George, Utah, and Pat and Jonathan Eilen's "The Aftermath" 2007 Peterbilt 379 added to its trophy collection by winning Working Bobtail outright.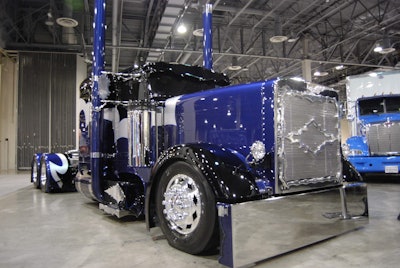 The show was sponsored by Firestone, Performance Diesel Inc, Lincoln Chrome, Fitzgerald's Glider Kits, American Independent Truckers Association (AITA), 75 Chrome Shop, Minimizer, Dynaflex and Cargo Cookie.
Next in the Pride & Polish series is the national competition in Dallas at GATS.
FULL WINNERS LIST:
Limited Mileage Bobtail
BEST OF SHOW: Todd Roccapriore & Jerad Wittwer/PDI Inc., St George, Utah; 2001 Peterbilt 379 – "Family Buziness"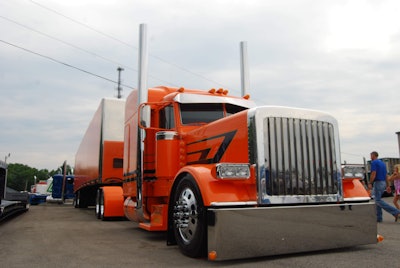 RUNNER-UP: John Cudd, Sterling, Colo.; 1986 Peterbilt 359 – "The Veteran"
Limited Mileage Combo
BEST OF SHOW: Vinnie Diorio/Rollin' Transport, Richfield, Wis.; 2013 Peterbilt 389/2008 Mac Curtainside – "Trend Settin'"
RUNNER-UP: Shawn Gibson, Broken Bow, Okla.; 2013 Black & Blue Peterbilt 389/2014 XL Drop Deck
3RD: Michael Manuel, Front Royal, Va.; 1984 Peterbilt 359/2003 Benson flatbed – "Custombilt 359" 
Working Bobtail
BEST OF SHOW: Pat Eilen/Jonathan Eilen, Hampton, Minn.; 2007 Peterbilt 379 – "The Aftermath"
Working Combo
BEST OF SHOW: Bill Rethwisch, Tomah, Wis.; 2012 Peterbilt 389/2008 Polar Tanker
COMPETITORS CHOICE: Vinnie Diorio/Rollin' Transport, Richfield, Wis.; 2013 Peterbilt 389/2008 Mac Curtainside – "Trend Settin'"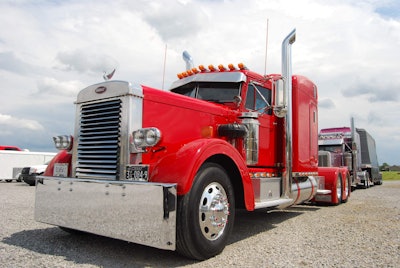 Class winners
BOBTAIL –ANTIQUE
1ST: Tobby Donalson, Crossville, Tenn.; 1959 Peterbilt 351
2ND: Ronnie Reed, Crossville, Tenn.; 1973 Kenworth W900A
BOBTAIL – 1996 & OLDER
1ST: Joel Dawes, Waterford, Wis.; 1988 Peterbilt 379 – "Family Tradition"
2ND: Todd Campbell/Bryan Campbell, Knoxville, Tenn.; 1995 Freightliner Cabover – "Icy Red"
3RD: Brandon Cooper, Livingston, Tenn.; 1996 Peterbilt 379
BOBTAIL – 2000 & NEWER
1ST: Pat Eilen/Jonathan Eilen, Hampton, Minn.; 2007 Peterbilt 379 – "The Aftermath"
2ND: Mike Medley, Rockmart, Ga.; 2007 Peterbilt 387 – "Southern Flyer"
3RD: Tom and Brian Davis/Davis Bros., Owensville, Ind.; 2014 Peterbilt 389 – "Flyover States"
COMBO – ANTIQUE
1ST: Darrell Andrews, Siler City, N.C.; 1980 Kenworth W900/2002 Utility van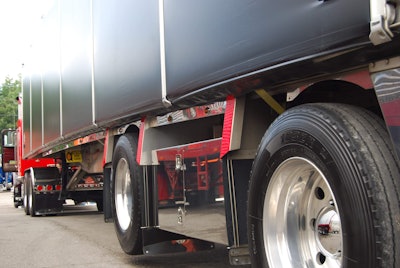 COMBO – WORKING
1ST: Bill Rethwisch, Tomah, Wis.; 2012 Peterbilt 389/2008 Polar Tanker
2ND: Darrell Andrews, Siler City, N.C.; 2007 Peterbilt 379 Legacy/2006 Utility Reefer
3RD: Ted Bowers, Kingston, Tenn.; 2005 Peterbilt 379/2009 Reitnouer Curtainside
INTERIOR – CAB ONLY
1ST: Pat Eilen/Jonathan Eilen, Hampton, Minn.; 2007 Peterbilt 379 – "The Aftermath"
2ND: Mike Medley, Rockmart, Ga.; 2007 Peterbilt 387 – "Southern Flyer"
3RD: Joel Dawes, Waterford, Wis.; 1988 Peterbilt 379 – "Family Tradition"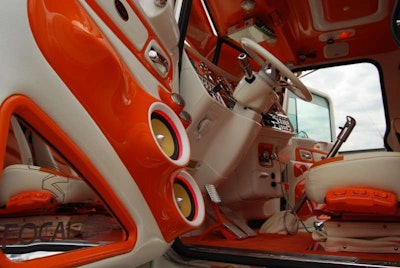 INTERIOR – OEM SLEEPER
Bill Rethwisch, Tomah, Wis.; 2012 Peterbilt 389/2008 Polar Tanker
BEST INTERIOR – LIMITED MILEAGE
Todd Roccapriore & Jerad Wittwer/PDI Inc., St George, Utah; 2001 Peterbilt 379 – "Family Buziness"
PAINT – BOBTAIL
1ST: Pat Eilen/Jonathan Eilen, Hampton, Minn.; 2007 Peterbilt 379 – "The Aftermath"
2ND: Joel Dawes, Waterford, Wis.; 1988 Peterbilt 375 – "Family Tradition"
3RD: Brandon Cooper, Livingston, Tenn.; 1996 Peterbilt 379
PAINT – COMBO
Bill Rethwisch, Tomah, Wis.; 2012 Peterbilt 389/2008 Polar Tanker
BEST PAINT – LIMITED MILEAGE BOBTAIL
Todd Roccapriore & Jerad Wittwer/PDI Inc., St George, Utah; 2001 Peterbilt 379 – "Family Buziness"
BEST PAINT – LIMITED MILEAGE COMBO
Vinnie Diorio/Rollin' Transport, Richfield, Wis.; 2013 Peterbilt 389/2008 Mac Curtainside – "Trend Settin'"
ENGINE
1ST: Pat Eilen/Jonathan Eilen, Hampton, Minn.; 2007 Peterbilt 379 – "The Aftermath"
2ND: Joel Dawes, Waterford, Wis.; 1988 Peterbilt 375 – "Family Tradition"
3RD: Todd Campbell/Bryan Campbell, Knoxville, Tenn.; 1995 Freightliner Cabover – "Icy Red"
BEST ENGINE – LIMITED MILEAGE
Todd Roccapriore & Jerad Wittwer/PDI, Inc., St George, Utah; 2001 Peterbilt 379 – "Family Buziness"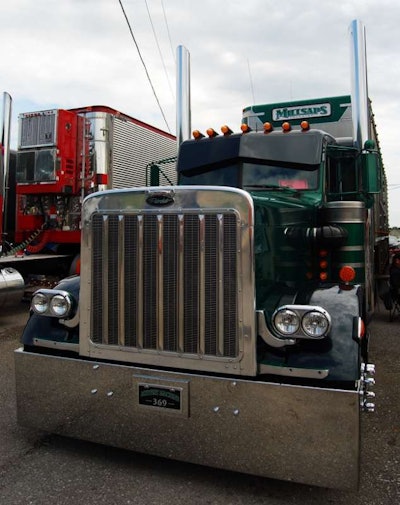 LIGHTS – BOBTAIL
1ST:  Todd Roccapriore & Jerad Wittwer/PDI, Inc., St George, Utah; 2001 Peterbilt 379 – "Family Buziness"
2ND: (Tie) Brian Davis/Davis Bros., Owensville, Ind.; 2014 Peterbilt 389; Tom Davis/Davis Bros., Owensville, Ind.; 2014 Peterbilt 389 – "Fly Over States"
3RD:  David Smith, Richmond, Ky.; 1984 Peterbilt 359
LIGHTS – COMBO
1ST: (Tie) Shawn Gibson, Broken Bow, Okla.; 2013 Peterbilt 389/2014 XL drop deck; Brian Davis/Davis Bros, Owensville, Ind.; 2005 Peterbilt 379/2012 Wilson hopper  bottom
2ND: Vinnie Diorio/Rollin' Transport, Richfield, Wis.; 2013 Peterbilt 389/2008 Mac Curtainside – "Trend Settin'"
3RD: Michael Manuel, Front Royal, Va.; 1984 Peterbilt 359/2003 Benson Flatbed – "Custombilt 359"
Wash & Show
BOBTAIL – 2004 & OLDER
1ST: David Smith, Richmond, Ky.; 1984 Peterbilt 359
2ND: Bryan Fretwell/Taylor Transport, Inc., Cartersville, Ga.; 2000 Peterbilt 379
3RD: Tracy Grizzle, Cumming, Ga. – "Stubby"
BOBTAIL — 2005 & NEWER
1ST: George Main/Chandler Hickman, Harriman, Tenn.; 2013 Peterbilt 388 – "The Duck"
2ND: Jeremy Robinson/Taylor Transport, Cartersville, Ga.; 2005 Peterbilt 379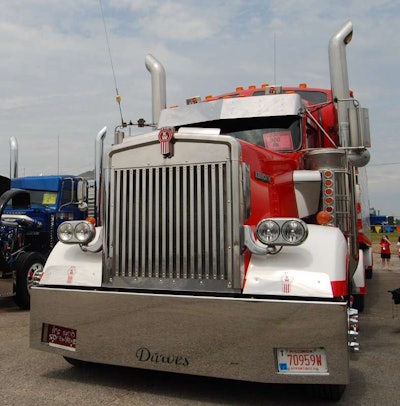 3RD: Shawn Chase, Cookeville, Tenn.; 2006 Kenworth T600
BEST OF SHOW — WASH & SHOW
BOBTAIL
George Main/Chandler Hickman, Harriman, TN; 2013 White Peterbilt 388 – "The Duck" 
COMBO
Morry Dawes, Waterford, Wis.; 2001 Kenworth W900L/2005 Great Dane reefer – "Big Red"
RUNNER-UP: Ronald Millsaps, Statesville, N.C.; 2002 Peterbilt 369/2011 Wilson cattle trailer – "Mystery Machine"
3RD: David McDaniel, Jefferson City, Tenn.; 2002 Peterbilt 379/2002 Trail King
[youtube 1jE7Mqx28Vs nolink]