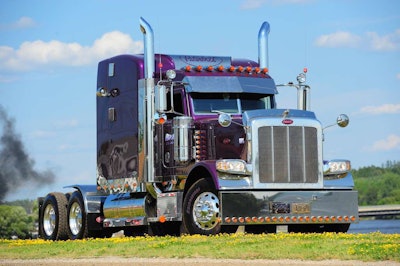 Logging trucks usually are sturdy work trucks that go about their job in anonymity. Not Blaskie Trucking's 2009 Peterbilt 388, driven by Brent Pecarski. It sports Peterbilt's Violet Effect paint tone, which turns heads and draws camera-toting gawkers throughout Blaskie's territory in Ontario, Canada.
Modifications were made from the time the pulpwood and log hauler was picked up at the dealer. Added were the Roadworks 14½-inch boltless dropdown visor, Nu-Line half fenders, a headache rack fabricated by Mik Mak of New Liseard, Ontario, and nine bullet-style roof lights.
Dieters Metal Fabrication of Waterloo, Ontario, installed longer exhaust stack guards to cover vents and chromed elbows, wrapped the fuel tanks in stainless steel and changed the factory bumper to a 20-inch stainless-steel boxed-end blind mount bumper with 22 2-inch amber lights.
Dynaflex 8-inch exhaust stacks were added in 2012, and the truck is decked out with 106 LED lights, plus four neon purple lights under the cab.
In the interior, all the gauges and switches were replaced with chrome products from United Pacific and installed by Never Enough Chrome of Ontario. The gear shift was extended by 18 inches, and the driver's seat was replaced with a Legacy low rider.
Hardwood flooring was installed in the cab, and leather inserts were placed in the doors and ceiling. While Pecarski's waiting for a load, he can watch the 19-inch flatscreen TV in the bunk.