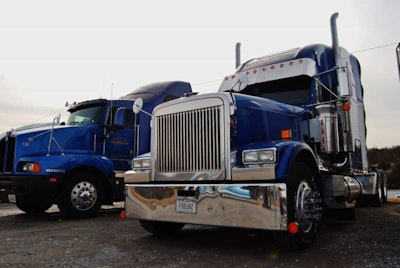 The 2001 Classic XL in the shot above is the primary runner of Hartsville, Tenn.-based Old Time Express' Mitch White, who with his brother, Mark, and father, Bo, runs the 20-some-odd truck fleet. Mark and Mitch also serve as company customers' flex capacity, as both continue to haul from time to time in addition to back-office work.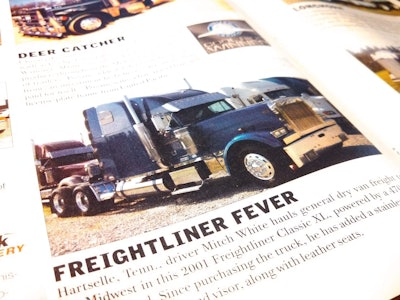 The Freightliner's also the rig pictured at right from the January 2007 issue of Overdrive. I got to meet Mitch briefly during a visit to Old Time this past Wednesday. I was there to talk mostly to Mark (pictured below with his own 2007 Peterbilt 386, powered by a 475-hp, 2006-emissions-spec Caterpillar), who'd reached out some time ago about what he believes is a dearth of coverage of the traditional safety rating. Namely, as CSA and its BASIC percentile rankings tend to dominate the analyses, and as the feds work on a new safety-rating methodology to replace the current one and utilize roadside and investigatory data to compute carriers' ultimate ratings, the current Satisfactory, Unsatisfactory and Conditional ratings are not getting the attention they deserve.
Since CSA opened the FMCSA's intervention/audit toolkit, as I've written about before, the focused intervention, as opposed to the full-blown audit, has assumed a greater importance. FMCSA, often triggered by a golden triangle on one of the CSA BASICs after the carrier crosses the intervention threshold, visits a carrier to look only at that one apparent problem area. In many cases, it's been hours of service, where several form and manner violations/logs not current violations in the paper log environment can push a carrier's Hours of Service BASIC score flying sky high. The reliability of the score notwithstanding, it marks the carrier for a focused intervention.
If further hours or other problems are found, the focused investigation can creep into a more full audit and investigators can downgrade the carrier's safety rating to Conditional. In order to get it back to Satisfactory, the carrier will have to address the problems and get investigators to take another look. Therein lies the problem, in some ways — in the CSA environment, the modus operandi has become maximum contacts with a maximum number of carriers, not focused attention to one.
In the meantime, Conditional carriers, despite best efforts to fix problems to please regulators, are stuck with the rating — and with the barrage of customer calls, increased numbers of inspections, lost brokers and other business pressures that come along with it. I've heard of some carriers who've sat on a Conditional rating for many years now, and in today's world it's more and more difficult to sustain a business with it, to say the least.
Transportation Attorney Henry Seaton, speaking at the National Association of Small Trucking Companies' annual meeting last year, put it this way: "Some say a Conditional safety rating is the new Unsatisfactory. Conditional now is much more difficult to get upgraded." The longer the agency waits to come back out to re-evaluate a carrier with a full compliance review, he added, "it basically starves [a carrier] out of business."
If this sounds familiar to you, be in touch: tdills@randallreilly.com. I'll be writing more about it in the future.
Meantime, enjoy the pictures below from the Old Time yard.