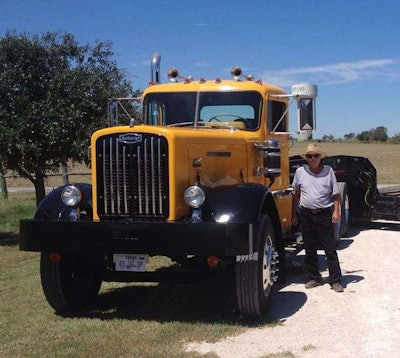 In November of 2012, I wrote a story about a truck that morphed into a story about a guy. The truck was an awesome old Autocar (pictured, above), and the guy (also pictured) was a man named Thomas Paul Kraak (rhymes with jake brake). The truck is what attracted my attention to Mr. Kraak, but his personal story turned out to be much better than the truck.
In 2006, Paul found the project truck he was looking for. He had always liked the look of the West Coast trucks, and when his friend John Goetz in Seattle found the 1960 Autocar at an Idaho equipment auction, Paul traveled from Texas to Washington to buy the truck from him.
As a member of ATHS and a collector of trucks, Paul considered the Autocar an ongoing project he never really finished. Unfortunately, the cancer he beat before I met him returned, and in August of 2013, Mr. Kraak passed away before he was completely done.
Fast-forward to February 2014.
Mr. Kraak's son, Jonathon, sent me a message with an ad that had the old Autocar for sale. He said he really didn't want to sell it, but it was time, and he just wanted me to know and thank me for doing the story on his dad. I asked Jonathon if I could do a follow-up memorial piece for him, and he was kind enough to give me some if his time in a phone interview.
Once again, a story that started out to be about a truck turned into something much more. In the course of our conversation, Jonathon explained the reason he was ready to sell the Autocar. When he was growing up, the truck he remembered, the one he grew up in, was a 1952 LT Mack. His dad sold the Mack many years ago, but Jonathon happened to work for the guy he sold it to, so he always knew where it was.
When his dad got sick, Jonathon set about buying the Mack back. He told me he just missed getting it paid off and to the house before his dad was too sick to drive it, but it was the truck he associated with his dad the most, so it's the one he's chosen to keep. He loves the Autocar, but the Mack is the truck of his childhood, which he describes as "spoiled rotten" as the only son. It was a difficult choice, but Jonathon hopes to find someone who loves the old Autocar as much as his dad did.
Good luck, Jonathon.
In the immortal words of Paul Harvey, "And now you know, the rest of the story."
Enjoy the photos below.