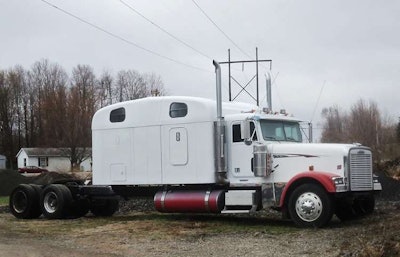 Regular readers will recall Michigan-based independent owner-operator Melvin Davis Jr. and his 1988 custom big-bunk Freightliner FLD from last winter when I caught up with him at the Nashville downtown TA for a meet. With that unit, he'd mated the front of one 60-inch sleeper to the back of another for a big custom bunk with all the amenities of home.
His latest project rig (also to be his daily hauler), a 2000 Freightliner Classic, however, takes that concept further for a sleeper with 163 inches of total length that you can see above, nearly finished.
Here's how the rig started: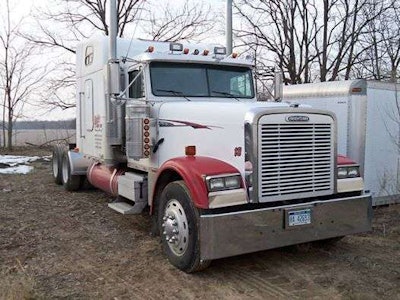 Find further photos of the build in the gallery below. The Classic now comes equipped with a full-size shower and bed, easy chair, table, a full closet and a kitchen counter with a sink, refrigerator, microwave and cook stove.
As he wrote me on Monday, after posting some of pics of the "Hillbilly Hilton," he said, "fresh out of the body shop" to his Facebook profile: "Just a few minor things to do inside and out and we'll be rockin' down the highway." Keep your eyes peeled, drivers. And stay tuned here on the blog — I'm hopeful to see the rig in person and get more images, detail on the build in future.