[youtube CBhxbatD5bc nolink]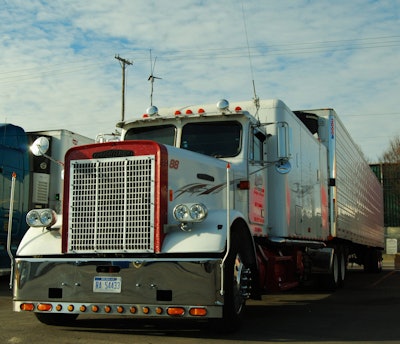 Hartford, Mich.-based Melvin Davis Jr. followed in his father's footsteps to one degree or another with his Davis Refrigerated Express business, a small fleet that at its height had "eight trucks running — four were mine, four were my business partner's," he says.
His father, Melvin Sr., however, had always run flatbed and dry freight himself, while Jr. gravitated toward reefer freight. Davis Jr.'s fleet met its demise during the tough times in 2009. "I had some bad drivers," Davis says, "and had some bad luck. I went away from it all for about a year, year and a half."
When he came back as Davis Trucking LLC recently it was with just one unit, the 320-inch-wheelbase 1988 Freightliner you see pictured above, a masterpiece of custom work he put in beginning in 2000, when he found the old unit sitting in a salvage yard north of his home and began to rebuild it from the frame up.
Today he hauls meat and cheese "out of Illinois to Texas" working with an Indiana-based broker, then moving from Texas to Florida, then back toward home in Michigan. "Pretty much everything I do is frozen — I rarely mess with produce."
When he bought the Freightliner, it didn't have an engine or transmission in it at all, though he knew it had come with a Cummins and a 13-over transmission. Today he hauls powered by a 3406 mechanical Caterpillar engine "bought from a farmer around here," he says, and a 13-speed transmission purchased brand-new from Weller Truck Parts in Grand Rapids.
"I had some help from some friends," Davis says. Some of the mechanical parts came from Precision Diesel out of Hudsonville, Mich., who also "helped put the motor in… That's where we stretched the frame [10 feet] and had driveshafts built for it. I built the sleeper on a car trailer in my own backyard, and a friend of mine is real good with body work — he and I were the ones to paint it."
The sleeper is the showpiece of Davis' own custom fabrication. "I bought two flattop stand-up 60-inch factory Freightliner sleepers," he says, and "took the back off one and the front off the other," then mating them together for a massive on-highway living quarters built "to my specs. I'm 5'11″ and I've got plenty of headroom" with the drop from the cab into the sleeper. He even "dropped the ceiling down five inches and insulated it to keep that hot Texas and Florida sun off of me."
The bunk features "a full-size bed just like the one you'd have it your house, a full-size shower, an easy chair with a computer station," Davis says. There's a big closet with a refrigerator in it at the front corner on the driver's side, a "big storage space between cab and the shower" on the passenger side, he adds, and cabinets with a microwave and convection oven likewise on the passenger side.
"Everywhere I go, it seems like I turn heads," he says, whether at the truckstop or on the road, "kids pointing at it with big smiles on their faces driving by. It makes a guy feel good."
Another custom feature is the hood, a vintage '83/'84 Freightliner model Davis installed in part to get vintage look of the headlights, round and separated from the body rather than squared-off and inset, as they were on the 1988 originally. Now, "basically it's your classic Freightliner look from back in the early 80s/late 70s," says Davis.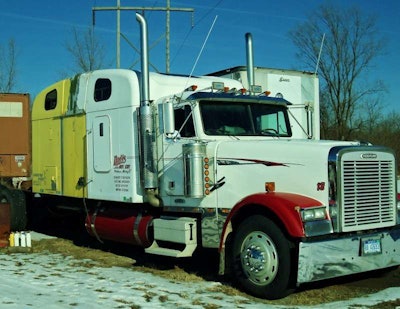 Enjoy the pictures in the two galleries below, including some "before" shots from a decade ago (in the second) that will give you an idea of how far the old beauty has come.
Next up for Davis? He's working on a 2000 Freightliner Classic (pictured) with a 165-inch sleeper. "The truck I'm building will replace [the 1988] next spring and I'll retire it and make it a show truck only," he says. "I'd love to take it to some of the big shows around the country." Stay tuned.
[imagebrowser id=54]