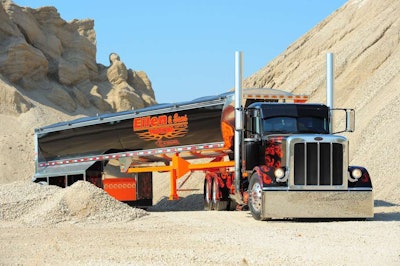 Jonathan Eilen says he didn't want his late brother Jake's old end-dump to be parked somewhere and go unused or, worse, "have the thing looking cruddy and crappy after a couple of years," he says. So late in 2008, he hooked the 40-foot trailer onto the truck he drove at the time and put it to work.
The black and orange Maximizer trailer was one of several that matched Eilen's late brother's famous black and orange truck. The two colors were his favorites, and his truck and trailer featured the black base topped with orange trim and a few flames.
But after Jake died in a car accident in November 2008, Jonathan took hold of it, he says, "just to keep my brother's legacy live."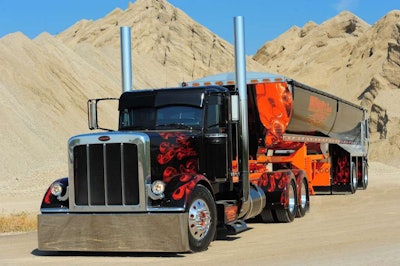 Less than a year later, Eilen's dad talked him into buying a truck (he'd driven his dad's company-owned trucks prior) to see if he liked it, and if not, Eilen says his dad was willing to buy it back from him. "I told myself 'Well, you're not getting any younger,'" he says. "Might as well go for it."
Eilen bought a new 2010 Peterbilt 389 in September 2009 and started "taking one thing off to replace it, then another," and before long, he says, he had the entire interior ripped out of it. "My dad came out and said 'What in the heck?' He looked inside and there wasn't a thing left in it — just bare wires and plastic pieces."
Eilen says he wanted to do the black and orange to keep Jake's legacy going and worked on the truck in bits and pieces, with help from his brother Pat who fabricated and mounted most of the truck's parts.
*******UPDATE 11/6/2015: Eilen's 2010 Peterbilt, with four other rigs, is currently in the running for the Truckers' Choice title among five years' worth of Pride & Polish National Championship winners — follow this link to vote once every day through November 20, 2015, for your favorite.*********
With a little help from his brother Pat, he built, fabricated and mounted most of the truck's parts. While in progress, Eilen says his dad cleared out a little room in his shop to stow the truck and its pieces until he finished. "It really just sort of became a family project," says Eilen, who also recruited his father-in-law, a body shop owner, to help him paint.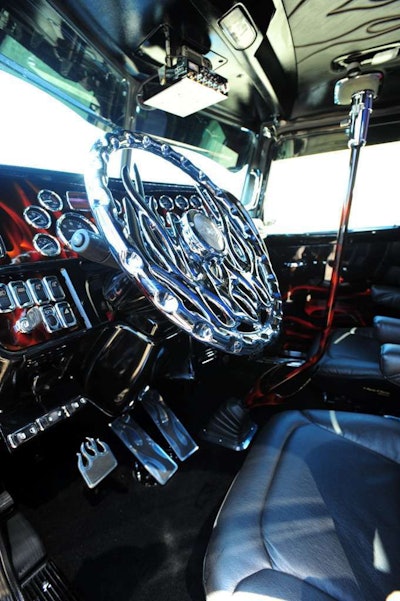 "We always help each other out when it comes to getting down and doing the dirty work," he says. "We all kind of work together with all of the trucks we've built, and we always bounce ideas off of each other about what we should try next. We just work together as a group."
The finished product is a tribute to black, and that theme flows throughout – inside, outside and under the hood are coated with a pitch black base. "I don't have any lights on top of the truck, just whatever I need to keep it DOT approved," Eilen says, though he did put orange lights underneath the truck to "make it pop at night."
He also wanted to touch on his hot-rod, motorcycle and stock car driving experiences by trying to make the truck as unique as possible. "Everything flows from front to back," he says. "I wanted the black and orange to carry through, and it does, inside and out. Motor, truck, trailer – everything's got it."
The rebuild took about a year, and the 389 rolled out of the shop and into the Custom Rigs' Pride & Polish show in Dallas at the 2010 Great American Trucking Show and took home the Best in Show honors in working-class combo.
Just before its completion, Eilen says he and his crew were tasked with coming up with a name. What they settled on, Iron Afflicted, simply "sounded good together," Eilen says. "I wanted something to do with metal, iron or steel, because we work with them so much, building trucks and cars and whatnot. And afflicted goes well with it, so that's what we called it."