Back in 2010 we ran a shot of New York-based owner-operator Rick Weisheit Jr.'s beautiful 2006 Kenworth W900L, part of our regular Reader Rigs feature in the magazine. At the time the rig was "all I have," he said, "but it's what I've always wanted."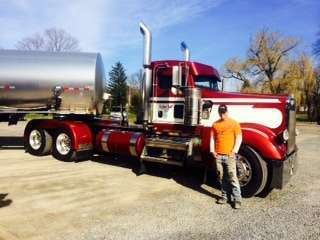 Weisheit, pictured here with a 2007 he now hauls locally in for likewise New York-based Cedar Hill Trucking, since 2010 has been through quite a lot, as his significant other, Samantha Eissing, wrote in to express. Her letter follows below.
But in spite of tough times, the 32-year-old has now embarked on a new project with a 1978 Kenworth W900 he found up in New Hampshire earlier this year. Eissing says that they've gotten to work in the last few weeks, and "just within the month of April, Rick and his friends have accomplished quite a bit, working out of his friend's garage." Some shots of early stages of the build follow in the gallery below. And as Eissing started her letter, "when trucking pulses through your veins; you'll do anything to keep it alive…." Enjoy her note here, and stay tuned for more coverage of the build. I'll be talking to Weisheit more as it proceeds.
As long as I have known Ricky, trucking and owning his own trucking company and being successful has been a dream of his. Shortly after his 2006 Kenworth was in Overdrive, Ricky had fallen ill with all three forms of severe psoriasis, a lifelong disease involving the immune system, for which there is no cure. Doctors put him on Methotrexate, a form of chemotherapy that he will have to take for the rest of his life. Doctors also told him this disease will eventually destroy his liver due to medications and leave him disabled. With the psoriasis covering over 80 percent of his body and taking a toll on his physical, emotional, and mental state, Rick had to let go of his business, his Kenworth, and his dream. For most, that would have been the end of the world. Not Rick. He was determined to get the psoriasis under control and get back to chasing his dream. Even though the 2006 Kenworth W900L, the "Ghost Rig" we call it — it's still out there hauling and haunts him when he sees it or someone posts something on Facebook about it. I believe it drives him more to reach his goal.
In the summer of 2013, Rick went to haul for Cedar Hill Trucking, a local company based out of Selkirk, N.Y., where he hauls contaminated soil, salt and stone. With his intentions to get back into it for himself, in February of 2014 Ricky scrapped up enough money to purchase a 1978 Kenworth W900. By no means is this truck road-worthy. Rick has turned this into quite the project truck.
He continues to battle with the psoriasis each day, work full-time and with no extra money live paycheck to paycheck. I can assure you when this truck is complete, it will be something to talk about! He is using whatever materials he can find from Craigslist and the help and labor from a few friends. Rick has currently chopped and stretched the truck from 206 to 282 inches. The roof is getting chopped 4 inches, and the chopped custom window panels and visor are being fabricated. Ricky has a custom paint job in mind with the intentions of flatbed work.
The love and determination he has for trucking and making it out on his own in a forever changing economy is nothing less than amazing. In the words of Ricky himself, "I have 78 reasons and proving people wrong is every one." –Samantha Eissing
Photos of the project 1978 Kenworth's initial stages follow. I'll have more details on the build in the future.