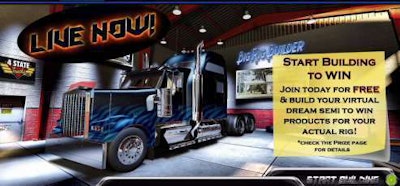 BigRigBuilder.com recently announced the launch of its virtual entertainment website built for American truck operators that allows them to "build their dream semi and compete in a virtual truck show" for gear they can install on their actual trucks, the company says. 
The site includes trucks, parts, paint graphics and more. 
The virtual truck show competition will be open for seven months, and the winners — one company driver and one owner-operator — will be announced on Dec. 25, 2014, and will win prizes that include a chrome package from 4 State Trucks; GPS and CB radio from Cobra; Bluetooth headsets from Blue Tiger and SleepDog gel mattress.