I got a call this past week from Kenny Hubka, the company driver and "High Gear" photographer I wrote about last year shortly after Walcott. The Riceville, Iowa-based Precision of New Hampton hauler makes all the shows he can within striking distance of his home base, and his photos from Walcott and other shows have been a hit on the High Gear Photography Facebook page and elsewhere.
He'll be out at the next in Overdrive's Pride & Polish series of truck shows in La Cross, Wisconsin, at River States Customz there, and he'll have more than just a photographic treat for you there, he says. Among the brilliant chrome and stainless and multi-clear-coated metallic paint of untold owner-operator trucks will be a little antique "patina," as Hubka says. His treat for attendees looks like this: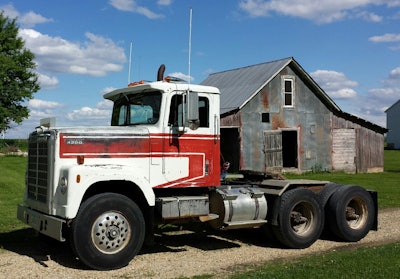 Hubka bought the truck with intentions to someday undergo a full restoration — at once, though, it's reminiscent enough of the "kind of truck dad had when I was about 10 years old" that he's fine with it just the way it is, he says. His dad's "was a 1972 – the first I was able to steer."
The unit's powered by a non-turbo 8v71 Detroit with a 13-speed transmission. "At 2,100 rpms she'll do 67 in gear 13," he adds. If he could get one for the right price — not easy these days — he'd "love to find a Mercury sleeper [to add on to the daycab], but finding one that you don't have to give an arm and a leg for in half good shape is tough."
In any case, enjoy a couple more photos of the interior and engine below. And say hi to him for me if you're out at the show next week. Keep tuned to his High Gear Photography Facebook page, the Overdrive's Pride & Polish page and right here at OverdriveOnline.com for results from the show late next weekend. If you still need to register your own rig, follow this link.