Kenny Hubka is a Riceville, Iowa, native and part proprietor with his wife, Laura, of High Gear Photography — he surprised us last Friday by sending in a bevy of shots from the big show out in Walcott, Iowa, at Iowa 80, of notable and classic trucks showing in the competition there. (For a full list of winners and more pics from the show, check out this story from late yesterday.)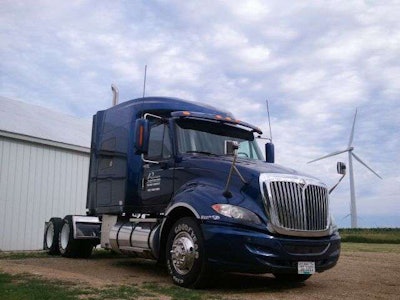 Hubka's also driver, currently running in this leased Precision of New Hampton 2009 International ProStar, for the last eight years hauling rebuilt torque converters for their factory in Iowa, he says. "I have three dedicated routes and more than 150 customers. My backhaul is the used torque converter cores that I pick up at  each stop. I never have to sit and wait somewhere for a load!"
His start in trucking came after a young life spent among elders who were part of the industry — his uncle ran a small fleet, and looking up to his father, Hubka had wanted to drive a truck from the time he was three years old. After time as a diesel technician as a young man and as "a foreman helping build NASCAR transporters for Featherlite Trailers," Hubka says, by 1997 he was ready to "get into the driving end of it." His father had driven truck for many years, learning in the Army stationed in Korea.
When Hubka got his CDL, appropriately, he started out driving for his father, "hauling hogs with his '79 COE International Transtar II.  No power steering, no A/C and a fuel-sucking Detroit 6V92 putting 290 hp to the wheels with a 13 speed, always grossing 80,000 lbs. " Yeah, that's how he cut his teeth — old-school.
He's done a little of everything since — general van freight, tankers, a "ten-place car carrier for a while," he says. High Gear Photography started when he "went to the Walcott show in 2008. I had bought my wife her first 'nice' camera in 2002, and she was seriously getting into photography by then."
A few years back now a "friend of a friend of my wife's," Hubka says, "saw some of the pictures I would post to Facebook after a truck show.  He said his friend was interested in using my pictures when they couldn't make it to a few of the Midwest shows like Waupun, Walcott and the Big Iron Classic in Kasson, Minn.  I show my company truck at Big Iron every year and now I get paid to go, too!"
You may have seen some of High Gear's work in Movin' Out magazine at this point, and Hubka's wife's made a decent business also doing "weddings, senior pictures and family portraits as well," he says.
All the same, "We are only in the infant stages of High Gear Photography as a business," he adds. "We are very passionate about both photography and trucking. We hope to build it up as a good business while finding new ways of enjoying what we are passionate about!"
Below find a few of his shots from the 2013 Walcott Truckers Jamboree.
Find more images from the Walcott show via High Gear's Facebook page.