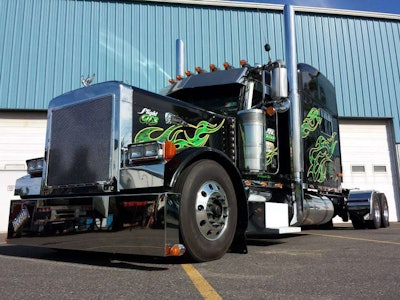 Owner-operator Derek Smith of Bethlehem, Pa. — also sometime known as the fiance to 2013 Overdrive's Most Beautiful contestant and fellow owner-operator Jessica Samko (who has been on television lately) — wrapped up a big stretch and some other custom work on the 2005 Peterbilt 379 pictured above recently. "I bought it new, bone stock, with nothing other than the platinum interior," says Smith, who "decided to stretch it not only for the look but the comfort of the ride you gain. After 17 years in business, I finally decided on this build for my personal truck rather than buying a glider or another truck." He'll hang on to the memories the 2005 cab brings with the comfort of the upgrade. She's got a million miles and counting under the wheels. "Now to get out and run the East Coast and let her stroll" — Smith's vision for the truck's success.
Here's more of what he had to say about the job, dubbed "Project Triple Threat" — the stretch leaves behind a 333-inch wheelbase.
The rig started its life as a 265-incher with a 70-inch bunk, running 95,000 miles or so local and regional hauling grain in and around Bethlehem, primarily: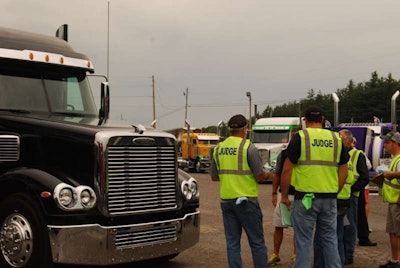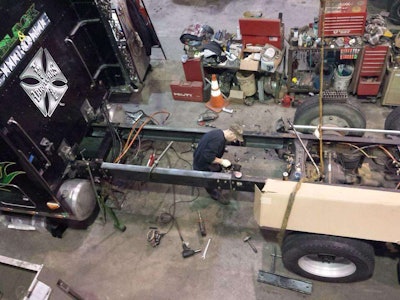 After a tour "in the shop for 2 months," Smith says, with $35,000 and some change (and plenty of hard work) put into the paint, stretch, air-ride steer axle and a 4 State Trucks flip bumper kit and more, "this tractor will either be going on to do grain up and down the coast here or doing some oversize work. The 550 Cat has some work done to it and is getting some more done after she is finished," with a goal of getting up around 900 hp.
How the truck has always been known: "a full stainless deck plate, with green lights underneath." Now, the "tractor itself will have over 200 independent lights. Bigger alternator, etc. The interior is all redone with Rockwood pieces." Find Souderton, Pa.-based Trinity Kustomz, with whom Smith worked on the rig, on Facebook via this link for more on the rig. Smith thanks the "Gouldey brothers from Trinity Kustomz on an outstanding job. … These guys know the fabrication ends and could weld two ice cubes together!"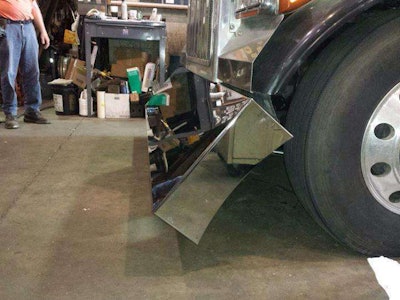 Catch a few more shots in the gallery below.
"The green tribal flames separate this truck" from others, says Smith, "with all our vinyl work done by William Neyer, owner of Scribbles and Drips from Laurys Station PA."
Other features:
**A custom-built driveshaft with three carrier bearings by Associated Truck Parts
**Interior has a 3,000-watt-plus stereo system
**More than 50 3/4-inch single LEDs