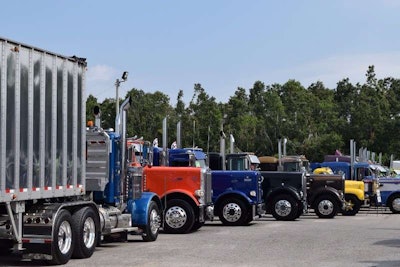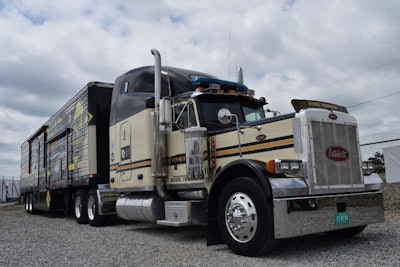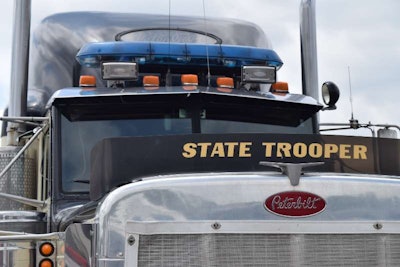 The first truck you see on entering the lot around Fitzgerald Glider Kits Sales and Service location in Crossville, Tenn., location of the Overdrive's Pride & Polish event ongoing through tomorrow, is this gem of a Pete, the Tennessee Highway Patrol's, which they on occasion put into service enforcing traffic laws on roads around the nation. I know, I know, we've written about it before. … I'd never seen the rig in person, though — toting here a display trailer emblazoned with "No Zone" messages for the motoring public about safe driving around big trucks.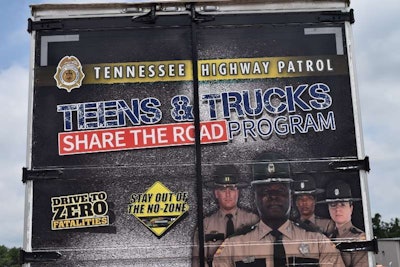 Not bad? Not bad. Now on to the real action … This is the final event in the annual round of Pride & Polish shows, which got under way last fall. Four more competitors for the big National Championship round in Dallas at the Great American Trucking Show next month will be established here. There's one such contender on display, the Springfield, Mo.-based heavy-haul/deck/dump fleet J&L Transport's "Contender" 2015 Peterbilt 389, which qualified for the National Championship at the event in Willows, Calif.
There are some familiar faces and grilles on the lot in Crossville this year, some units appearing alongside the former but with entirely new equipment. Or newly put in service, as it were.
There are many more rigs situated around the lot showing a lot of creativity and pride with clearly hard work put in — many have never graced the field here in Tennessee before. Below, find some views of the action through the middle of Day One.
And stay tuned for news of the winners over the weekend.