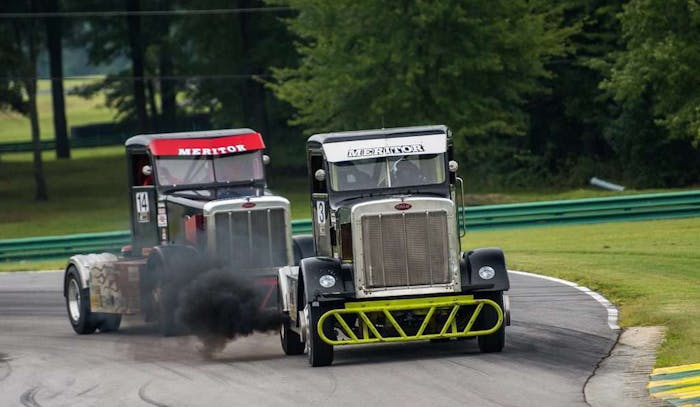 Ten-truck fleet owner and operator Allen Boles again won the points-earning race at this weekend's Meritor ChampTruck World Series truck racing event held at the Virginia International Raceway, marking his second victory in a row and the third straight for his Jupiter Motorsports team.
In addition to Boles' recent victory at the Gateway Motorsports Park races in St. Louis in mid-July, his colleague and teammate Ricky "Rude" Proffitt picked up the win at the Charlotte Motor Speedway races the weekend of July 4th. Boles and Proffitt run a matching pair of Peterbilt racers, one based on a 379 and the other, Boles' rig, on a 359.
Hungarian racer Krisztian Szabo placed second in the so-called Podium Race, and Minimizer's Brad Klemmensen won third.
Mack tech Mike Morgan, who had strong showings early in the ChampTruck season, place fourth or better, including a victory, in the five heat races leading up to the weekend's main event. Overheated brakes, however, doomed him in the Podium Race, pushing him to a fifth place finish.
This was the sixth race of the Meritor ChampTruck World Series' inaugural season. The next race is set for Hastings Motorsports Park in Nebraska, Sept. 11-13.
Here's a gallery of photos of some of the action from the this weekend's VIR-held races, shot by photographer Matt Brown: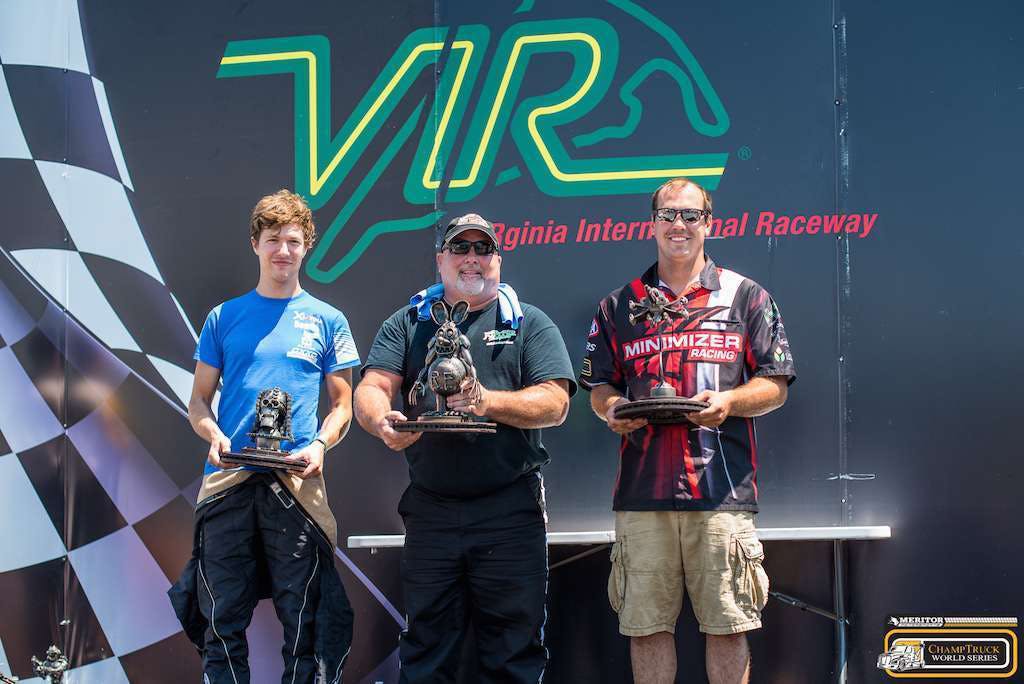 Trophy presentation, from left: Kritsztian Szabo, Allen Boles and Brad Klemmensen.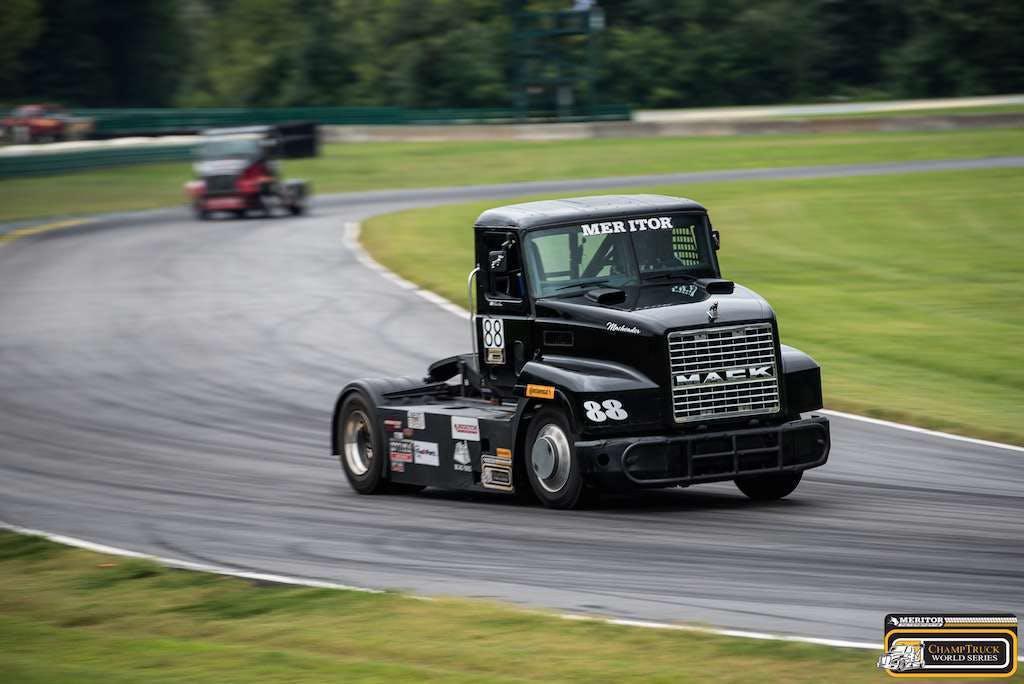 Mack tech Mike Morgan's No. 88 Mack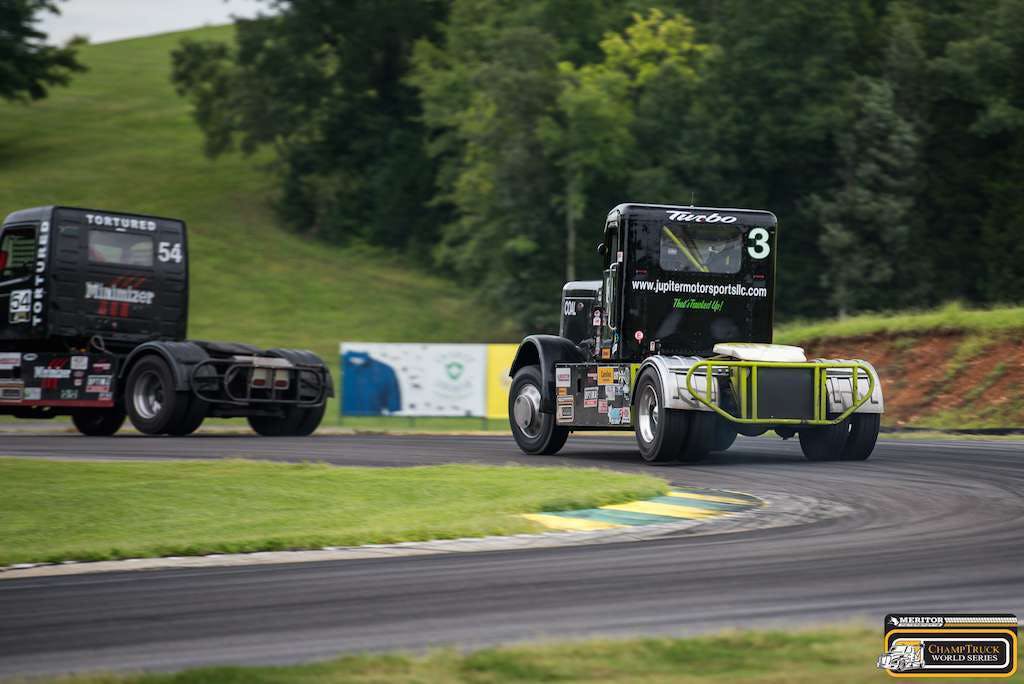 Minimizer's No. 54 Volvo, with Boles' No. 3 Pete 359 following.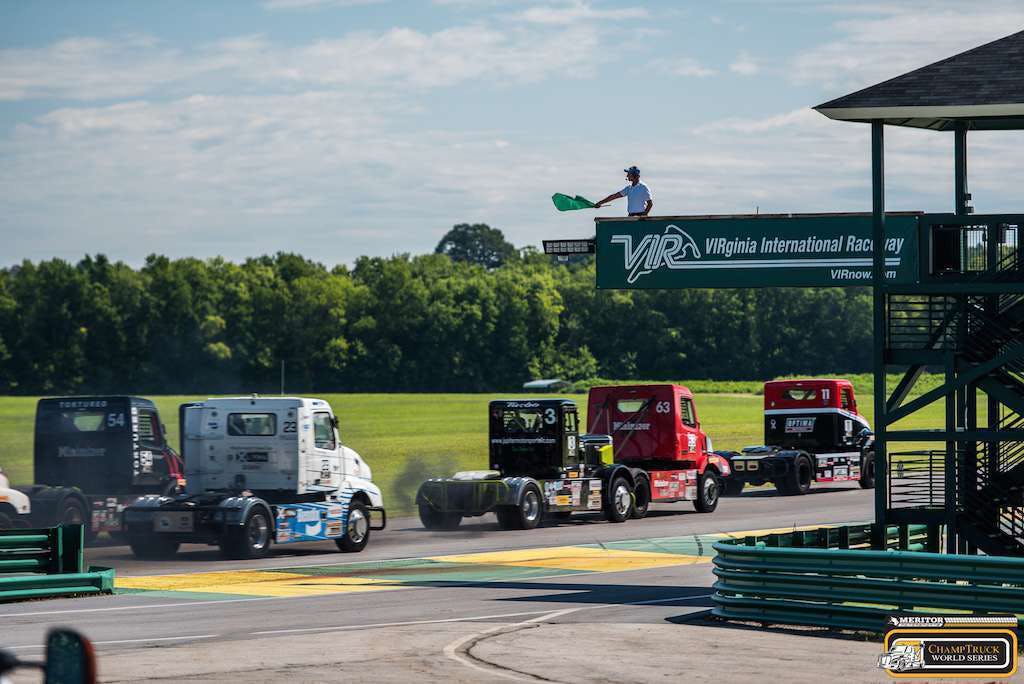 The pack of racers crossing the finish line during one of the weekend's heat races.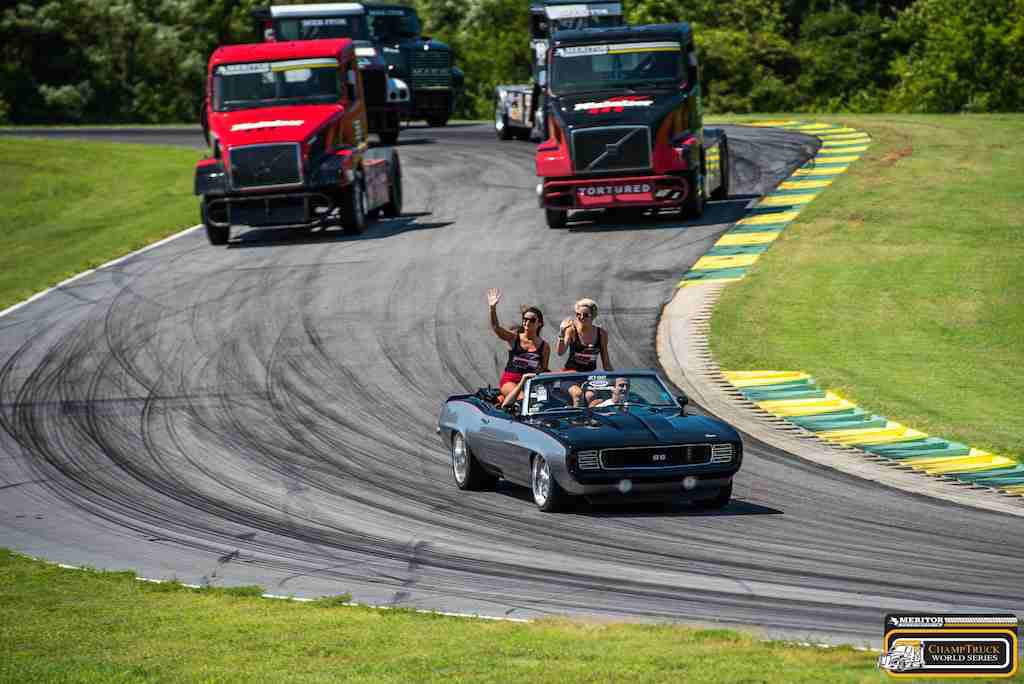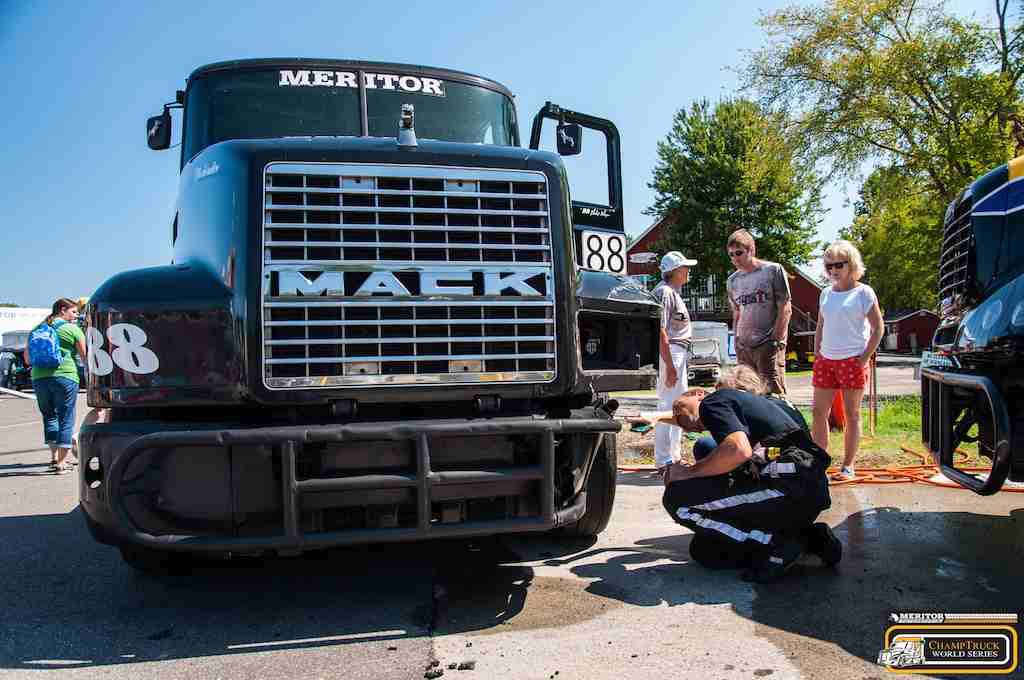 Mike Morgan taking a look at his brakes following the weekend's main event Podium Race, during which Morgan's brakes overheated.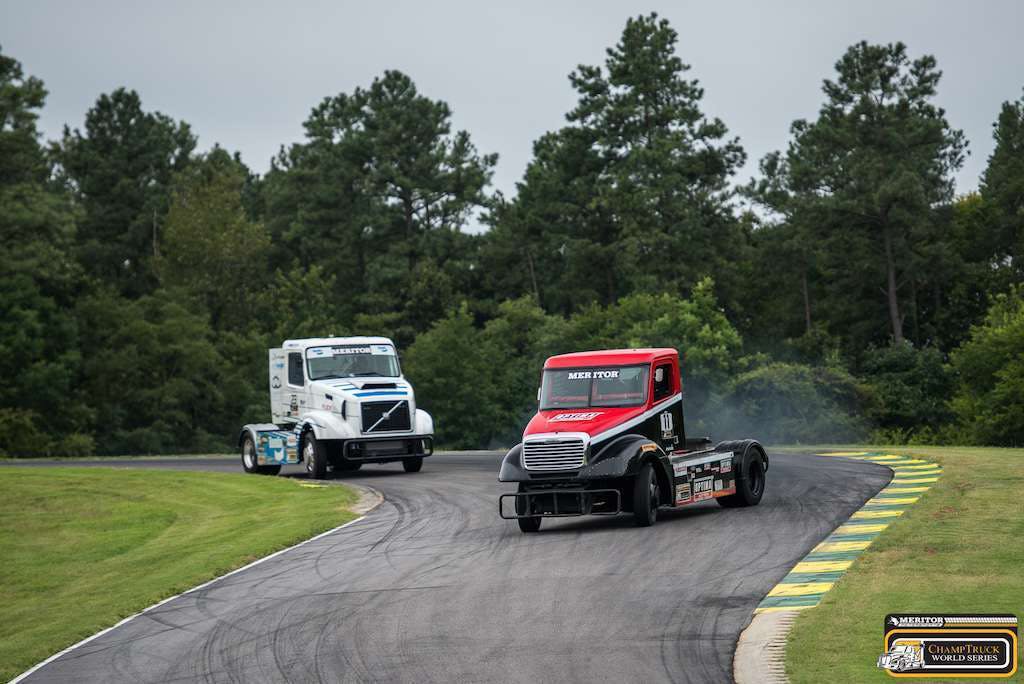 The No. 11 Optima Batteries Freightliner taking a slide in a turn, followed by the No. 23 Bendix Volvo, driven by Hungarian racer Krisztian Szabo.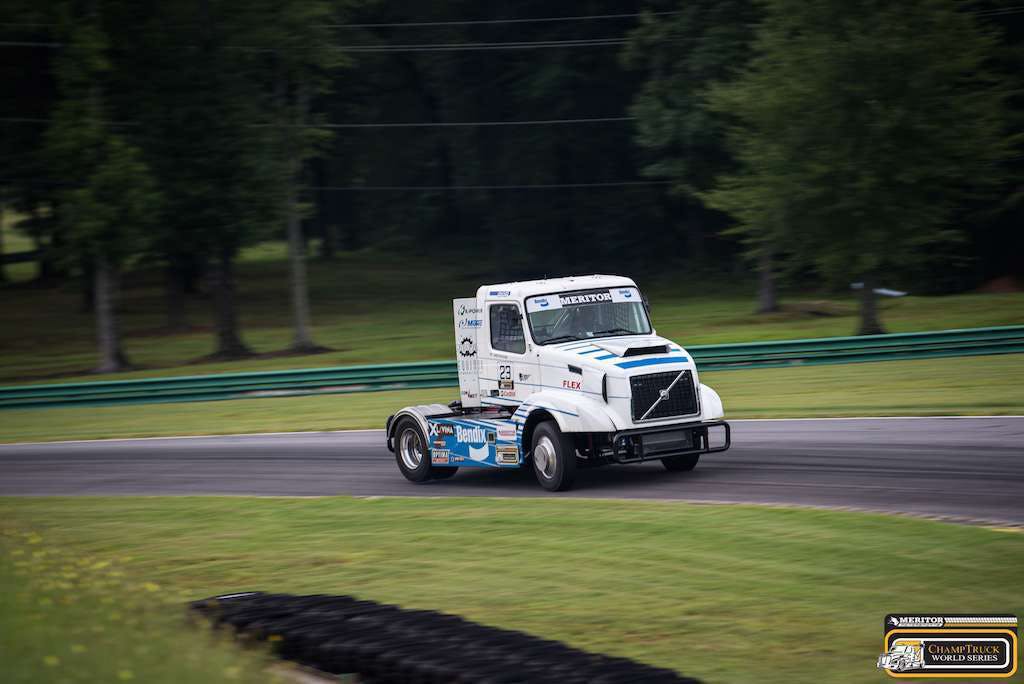 Hungarian racer Krisztian Szabo's No. 23 Bendix-sponsored Volvo.