Overdrive will feature one Truckers' Choice 25th Anniversary finalist each day this week. Click here to see all of the competitors and to cast your vote. The contest is being held to celebrate the 25th anniversary of Overdrive's Pride & Polish.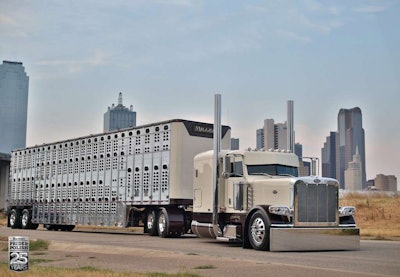 Competitor: 2010 Peterbilt 389 and livestock trailer
Owner: Phil Miller
Details:
Phil Miller cut his trucking teeth hauling his own livestock from his ranch in Nevada, but he's been around trucking his whole life. In 1997, tired of "always being broke," he said, he took to trucking full time. He hauled his first cow in 2000, working his way into full-time cattle hauling nationwide with his three-truck fleet. In the last 12 months, Miller has scored big wins across the country with his 2010 Peterbilt 389 and Wilson livestock hauler. It features a custom fender and panels, a rebuilt and repainted PDI-modified Caterpillar engine and an interior with a Rockwood dash and floor, custom panels and a specially designed ceiling.
Media: