Overdrive will feature one Truckers' Choice 25th Anniversary finalist each day this week. Click here to see all of the competitors and to cast your vote. The contest is being held to celebrate the 25th anniversary of Overdrive's Pride & Polish.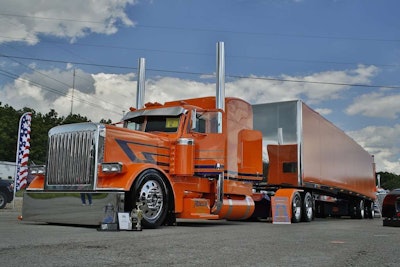 Competitor: "Trend Settin'" — 2013 Peterbilt 389/Mac curtainside
Owner: Vinnie Diorio, Rollin' Transport
Details:
Diorio's custom truck builds may be the inspiration for other showcomers (hence this rig's name — Trend Settin'), but in terms of hardware, few others in Pride & Polish's 25 years can match the number of wins, especially big ones, Diorio has. The Peterbilt 389 in the Truckers' Choice 25th Anniversary contest is, in many respects, the centerpiece of Diorio's Pride & Polish history, having earned the Wisconsin-based small fleet owner two Pride & Polish National Championships (2013 and 2014) and a bevy of Pride & Polish Best of Shows.
Media: