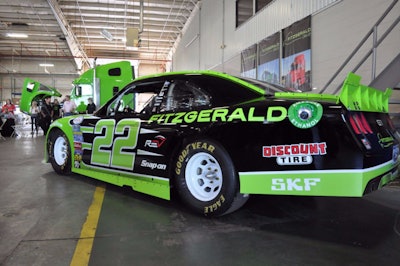 Fitzgerald Glider Kits announced March 17 it will sponsor the No. 22 Ford Mustang in NASCAR's Xfinity Cup series for four races this season. It also announced it will be the title sponsor of the Bristol Motor Speedway Xfinity series race, now set to be called the Fitzgerald Glider Kits 300.
The race is scheduled for next month in Bristol, Tenn.
Along with the sponsorship announcements made at its Byrdstown, Tenn., glider kit manufacturing plant, the company unveiled the No. 22 Fitzgerald-sponsored car, photos of which are below.
Joining the company in unveiling the car and announcing the sponsorship was NASCAR racer Brad Keselowski, a driver for Team Penske. He and racer Joey Logano will each drive the car in two races this season.
Here are photos of the car and the trailer that will haul it, along with video of Fitzgerald's founder, Tommy Fitzgerald, and Keselowski pulling the curtain off the No. 22 Mustang: