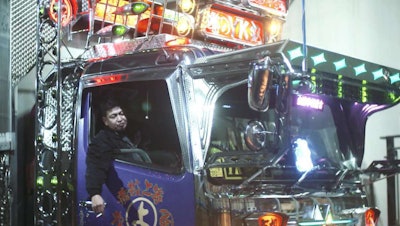 As in the United States, in Japan there's a long history of owner-operators taking pride in their ride, known by the "dekotora" terminology — essentially, the word means "decoration truck" in the language of the Land of the Rising Sun. The short documentary above chronicles the pride and pressure on one such owner-operator, whose rig showcases some of the hallmarks of Japanese owner-op design. It diverges from U.S. styles in many ways, as is obvious from pictures of the straight truck, but the bedrock concerns for projecting dedication and professionalism are well of a piece with those of U.S. custom-rig owner-operators.
The documentary, telling the story of Japanese produce hauler Takuya Sosogi largely in his own words, was produced by the Mel Films crew attendant to a feature story about Sosogi for the L.A.-based Mel magazine, an online culture mag.
Says the documentary's director, David Freid: "My grandfather, a hardworking, old-fashioned American trucker, drove for over 50 years — so I went into the project with a personal connection to the lifestyle. I thought dekotora drivers might be a little more like what you'd find at a rowdy biker bar, but like all things Japanese they were quiet and cool; models of respect. A perfect contrast to their booming and glittering rigs. Cherry blossoms and chrome."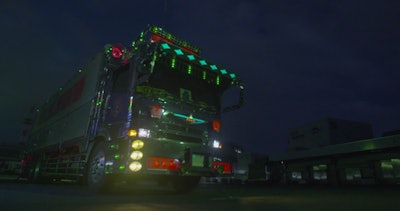 The team at Mel Films "was obsessed with these trucks at first sight," Freid continues. "We were looking for story to pair with another beautiful car mod piece we were working on for our Roadside Attractions series, but we decided to let dekotora stand on its own. A day-in-the-life ridealong in one hell of a rig."
Give it a look above or via the story in Mel mag. And you can connect with the mag via its Facebook page at this link.